The Dark Knight Is The Third Biggest Film Of All Time; Smokes Pineapple Express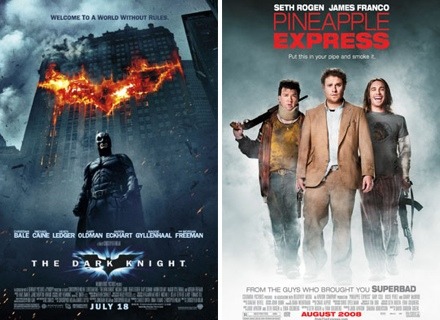 Many people predicted that it wouldn't happen, but The Dark Knight won its fourth straight weekend, taking in $26 million, compared to Pineapple Express' estimated $22.5 million. The last film to accomplish this feat was 2003's Lord of the Rings: Return of the King. In less than a month, the Batman Begins sequel has grossed $441.5 million domestically, making it the third highest grossing film of all time (before inflation of course), knowing Shrek 2 from the throne. The only two films which have made more money domestically (before inflation) are Star Wars and Titanic.
The Dark Knight will likely top Star Wars' $460.9 million in the coming weeks. And while unlikely, box office analysts aren't counting the film out of the all-time race tp $600 million. The film has also grossed $263 million overseas, for a worldwide total of $704.6 million. To give you some perspective, The Dark Knight just surpassed Star Wars: Episode II – Attack of the Clones, Forrest Gump and The Sixth Sense on the worldwide chart.