Star Trek Screened; Trailer Cut But Awaiting FX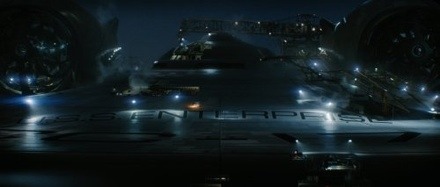 The first cut of JJ Abrams' Star Trek has screened to studio boss Brad Grey and executives on the Paramount lot. One source tells TrekMovie that the cut was "very impressive", while another said that the reaction in the screening room was "far beyond expectations". We're still nine months away from release, and only a few of the 1300+ effects shots are remotely finished.
Apparently a theatrical trailer is already cut and edited, but the effects in the trailer have to be completed before it can be attached to a movie. Some people are buzzing that the studio hopes to release the trailer on September 26th with DJ Caruso's Eagle Eye (Star Trek writers Alex Kurtzman and Roberto Orci produced the film). But we've already heard that Transformers: Revenge of the Fallen is eyeing that release. So who knows.