Leonardo DiCaprio Tipped For The Jew Hunter In Inglorious Bastards. Meh.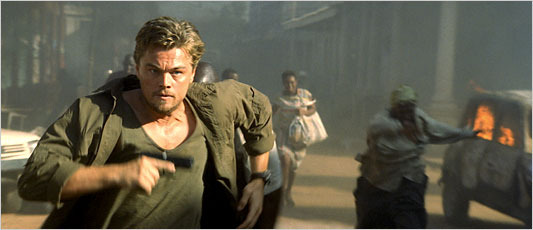 Hopefully, I'll have a script review of Quentin Tarantino's Inglorious Bastards in shortly. After marinating on it for a few days, I don't feel that it's the knock out of the park that's been widely reported. One character vital to the script that suffers from weird incongruities is the main antagonist, Colonel Hans Landa aka "The Jew Hunter." The trades now report that QT will be in talks this week with Leonardo DiCaprio for the role. Last week, Brad Pitt was said to be in talks for the lead role of Lieutenant Aldo Raine, an American soldier from Tennessee who is an out-and-out shitkicker and Nazi nightmare.
Below, I'm going to discuss the parts they're up for, but it's spoiler-free. Watch out for the comments, though.
Pitt's casting would be spot on for the part. We've seen him go convincingly gruff and murderous in Fight Club, Se7en, and he can lay on a thick accent, as seen in A River Runs Through It. He's the right age to play a leader and mythical father figure to his fellow squad of "Basterds." But while I'm a fan of DiCaprio's work, he's just not right for The Jew Hunter, especially if he's facing off with Pitt. All talent aside, this movie needs to veer away from pretty men. No offense, pretty men. Landa already borders on caricature on the page—he's also not scary enough for the head ambitious Nazi doosh when the plot's stakes go high—and while DiCaprio cleans up well and has the eugenics down, let's face it: Pitt's Aldo would squash DiCaprio's Landa with his hands tied. Think the macho mismatch that was Bill the Butcher and DiCaprio's Amsterdam in Gangs of New York, if Amsterdam rarely got his hands dirty.
These characters need to be equally deadly and even matched for the sake of creating nail biting, if pulpy, tension. DiCaprio would be fine (ironically enough) for the super powered world of Captain America, but anchoring the nastier side of a WWII juggernaut? Not so much. This is not a case where Brains vs Brawn will do the trick. I want to hate Landa's guts and fear him, not wonder if my girlfriend is having a better time.
Discuss: Leonardo DiCaprio for Col. Hans Landa? Brad Pitt for Aldo? Are these guys too pretty?
Comment: /Film reader, Steve, says that DiCaprio would be better suited for the character of celebrated Nazi soldier, Fredrick Zoller. This would be ideal casting.