Scream 4 Officially Announced By The Weinstein Co.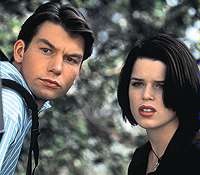 Oh Scream. And Scream 2. (And Scream 3.) You were released in such simple times, back when Kevin Williamson was a household name, teen couples giggled at David Arquette's quirkiness (autism?), and the name, Rose McGowan, didn't conjure ripped photos and fire. Like college loans, "journalism," and forgotten faces from spring break, will you now come back to haunt us? Buried in today's monster press release announcing the power-force marriage between The Weinstein Co. and Showtime is this "upcoming releases" nugget for TWC's Dimension Films...
"re-starting the "Scream" franchise with Scream 4..."
Back in 2007, Slashfilm entertained a fourth film in the franchise, complete with a mock-up poster, only to mark through the entire post when the rumors were simply that. If memory recalls, Wes Craven directed all three films (none of which tanked or categorically sucked), Neve Campbell's character, Sidney, survived, and I think Jenny McCarthy's character, um, didn't survive. Jamie Kennedy also died, alas, his career kept walking. Here's an old quote from Craven regarding a hypothetical Scream 4...
"I think everything has already been told within the first three movies and I don't want to make the one more that would be the wrong one. And second because Dimension won't really be interested in contacting me right now just after the troubles we had on Cursed."
Cursed!?! If further Scream 4 news is never announced, we'll gladly toss this post into a Ziplock bag and throw it up in the attic next to our sister's Party of Five soundtrack.Discuss: Scream: The Next Generation with iPhones, Twitter and Barack Obama? Oh, and sorry about those mega-spoilers.