How The Dark Knight Went IMAX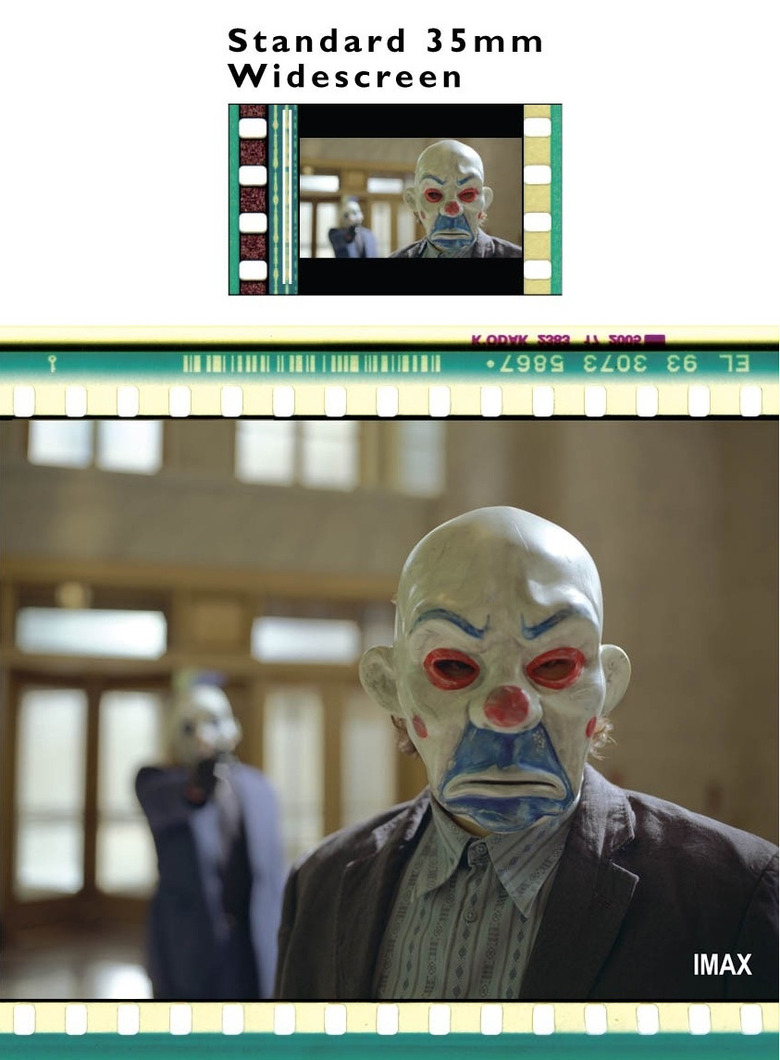 I've said it before, and 'll say it again – You haven't seen The Dark Knight, unless you've seen it in IMAX. OVer 20 minutes of the film was shot with 70mm IMAX cameras, and the result is a cinematic experience like you've never seen before. But how did this all come together?
"It was always Chris [Nolan]'s idea, he's wanted to shoot on IMAX for years," producer Emma Thomas told us at The Dark Knight junket. "I mean a long long time, has been talking about doing this and then this, when we were talking about where to go with the sequel to Batman Begins and he really wanted to expand the world and make the film feel really huge and it just seemed like the right, finally we had the right project."
Part of the preparation included a couple test shots on The Prestige, explained Emma Thomas: "We actually, on The Prestige shot, did a couple of shots with the IMAX camera just so that we could get a sense of what the issues were going to be
Nolan originally planned to shoot five of the scenes in IMAX but he kept increasing the use of the cameras through out the production.
"He liked what he was seeing," says producer Charles Rovan. Thomas adding: "As we went along there was just some shots that just he felt like would be great in IMAX and so we just sort of peppered those, so we definitely an added some, because it just turned out to be much much easier than we thought it would be.
Not that filming using IMAX cameras is necessarily easy. They are big and clunky, and a short load time of two and a half minutes.
"Yes, two and a half minutes. Well, they actually have two cameras, one is even shorter like, one is 30 seconds. And there's one that's two and a half minutes," said Rovan. "We had to modify the arms that we put on the equipment that we attached those IMAX cameras to in order to carry the weight."
"We found ways and we planned ways of getting around for example, the short load-times which is you know, we would just swap one camera for another when it ran out of film and that kind of thing," explained director Christopher Nolan. "Generally with action sequences which is mostly what we were shooting you really rarely roll for more than ten seconds for example so it tends not to really be a factor. Shooting a dialog scene with an IMAX camera would be a bigger challenge because of the noise of the camera and the short length of the loads and so forth but we got better and better at it, we had a terrific crew, a lot of our camera mounts and things were 35 millimeter they were ones they're built to withstand enormous abuse, so they can take the weight of a much larger camera."
However they did break one steadicam rig with the enormous camera. Chris explains that it "literally sheered off, dropped the thing on the ground."
"The camera department had a great system in place where they would have instead of reloading they would have another camera body loaded ready to go and it worked out well," said Thomas. "It actually ended up costing us a lot less time that we thought it might."
And the result is just amazing.
"You're completely immersed in a way that you're not with a smaller frame, and that's huge, obviously but then also the clarity of the image just I think you feel like you're there, you know," says Thomas.
"And also we would down-rez the IMAX to 35mm and knew that that experience even in 35mm would be great for people to see. It's so much more vibrant. You don't even realize it, you just go wow! This is like so much more in your face."
You can check out the full listing of IMAX Theatres playing The Dark Knight on Film School Rejects.