Dan Bradley To Direct Red Dawn Remake, Carl Ellsworth To Write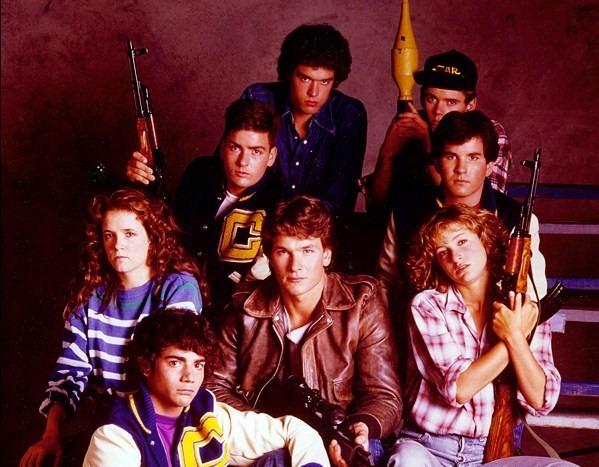 Look at C. Thomas Howell in the yearbook photo above. Today's teens need to aim higher. Emptying today's "post-9/11" quota is screenwriter Carl Ellsworth (Disturbia, Y: The Last Man adaptation) who will pen the remake of 1984's Red Dawn, the beloved Russian invasion teen patriot movie that inspired Toy Soldiers and many a neighborhood ground warz. Ellsworth described his take to the Hollywood Reporter...
"The tone is going to be very intense, very much keeping in mind the post-9/11 world that we're in," says Ellsworth, who was 11 when the original was released. "As 'Red Dawn' scared the heck out of people in 1984, we feel that the world is kind of already filled with a lot of paranoia and unease, so why not scare the hell out of people again?"
Two things: If we're switching out the Ruskies (and Cubans) for Osama bin Laden, does the title still make sense? Also, was the point of writer-director John Milius's original to frighten people or simply to kill people non-stop on screen and give bored video store employees a chance to connect with their plebeian customers? Don't overthink it, Ellsworth. Don't turn Red Dawn into [shudder] The Siege!
MGM, which is also ramping up the RoboCop remake, has signed Dan Bradley to direct. Bradley's filmography goes on for days and days. He's worked as a second unit director on the last two Spider-Man films, Superman Returns, the last two Bourne films, and is currently working on Quantum of Solace. His list of credits for coordinating stunts—-which are nearly as vital as the director for this remake—-includes every movie you've seen in the last 20 years. Go for it.
No word if the new (and not yet cast) batch of fresh faces (cough, Corey Haim), will shout "Wolverines!"
Discuss: Red Dawn or Feh, Yawn?
p.s. War Games 2 drops on DVD July 29th! [Explosion]