Movie Playlist: Andrew Stanton
Welcome to another edition of Movie Playlist, where we talk to the writers, directors, and stars about their favorite films. I've always found the celebrity playlists on iTunes to be interesting. Most everyone in the film business moved to Hollywood after discovering their love of films. And I've always love talking to people about their favorite films. So talking to the people who make the movies about their favorite films just seemed like a natural idea.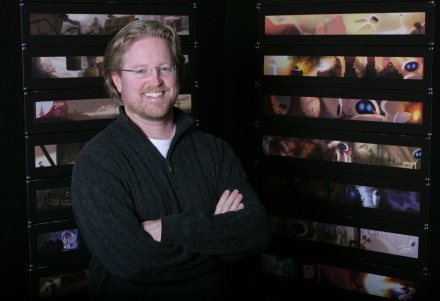 This week's edition is with the Academy Award winning director of Finding Nemo, Andrew Stanton. The second animator and ninth employee to join Pixar Aniamtion Studios, Stanton is credited as a writer on Toy Story, A Bug's Life, Toy Story 2, and Monsters, Inc., Stanton also served as co-director on A Bug's Life. His new film WALL-E hits theaters on June 27th 2008. You can tell instantly that Stanton is a hardcore film geek. If I didn't stop him, he could have talked about all of his favorite films, and the conversation could have lasted hours.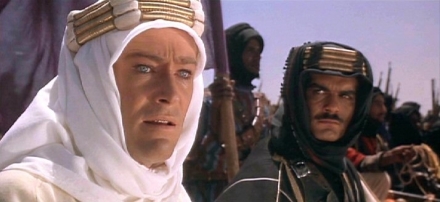 "It starts right off the bat with Lawrence of Arabia, that's always been my favorite movie. I get something out of it every time. I've seen it maybe over two dozen times in the theater, and I just get something out of it every time I didn't get before and I think Lean was just a master at cinematic storytelling. He just – every frame told you something in a way it was staged and how, and he was such a master editor, I just learned how economical to be with storytelling and cinematically from his work, and I just think that's just the greatest film of all."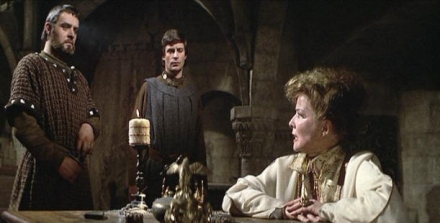 "The next film for me is Lion in Winter which a lot of people don't know, but I think it's one of the cleverest – it's actually from a play and it probably comes across not that cinematic, but that the interplay between the relationships of Henry the II and Aquatine and all their kids, the dialog is the best dialog I've ever heard in any movie, it's just an amazing movie."
"Gallipoli is one of my favorite films also. It's Peter Weir came out in like '81 and I just I don't know it just made a big impression on me every time that I saw it and it's one of those films I just love coming back to, it's just got great real moments in it. It's one of those movies where it's not obvious on the surface what the story is about but you know that you're in the good hands of a story and you just get caught up in these character moments, and it slowly reveals itself what it's about and it's very mature in that sense."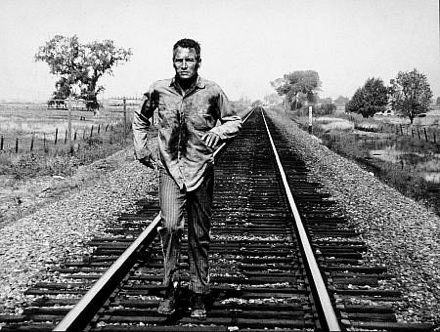 Cool Hand Luke – loved that movie, it's just, that's a great allegory and it's just, so much of that film is iconic.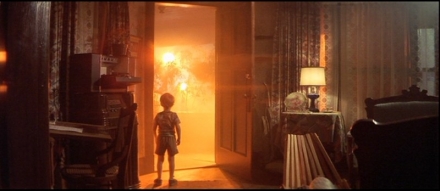 Close Encounters of the Third Kind I was a huge fan, I don't think Spielberg has ever topped himself with how much wonder is in that film. It just oozes wonder and I just loved that film.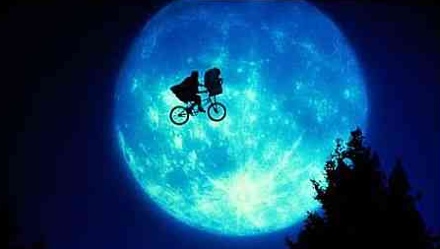 Peter Sciretta: It's funny you even say that because in E.T. there is that moment where they're flying over the moon reminds me of the moment in Wall-E where he's he's going through the rings of Saturn, for some reason I got that same moment of wonder...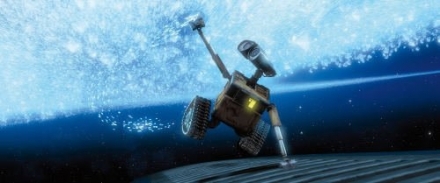 Andrew Stanton: "Well, I'll take that as a compliment because I was a junkie for that stuff, to me that was the best, Spielberg at his best and Disney at its best really tap into that ingredient of wonder which is really hard to come by in films I feel. And even overall, just historically."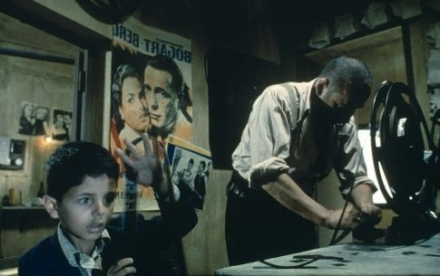 "Now you've got me thinking Cinema Paradiso, I'm a huge fan of, just because I'm such a movie buff and I used to be an usher for a small art house theater in my hometown and that sense of being part of a little film house with all the quirks and eccentricities of all the locals and just seeing film after film all the time even if there were films you didn't like but you could appreciate it just spoke to me in so much.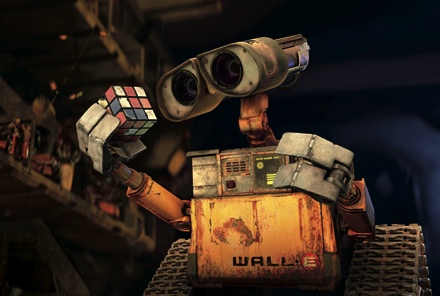 What kind of films influenced Wall-E?
"Pretty much it's the overall amalgamation of sci-fi movies that I saw from the late sixties to the early eighties, it's sort of a mishmash of just how they all felt to me, I mean they were all very different, they're all over the map, but there was just... I don't know I just felt like I was – from 2001 on I always felt like I was in good hands when the next great sci-fi film came and it always felt like you were guaranteed there was one coming either the next year or the year after that, you know, then because you had films like Star Wars, and then you had Alien and then Blade Runner and Close Encounters, and Silent Running and you can even go back a little earlier and go to Planet of the Apes, I mean they all were so awe inspiring, I just believed and I was so transported in each of those movies to whatever worlds and whatever characters were involved and I just loved it, I couldn't get enough of it."
"And I kind of felt like that went away, like somewhere in the late eighties into the nineties, I just wasn't feeling like that anymore or I don't know if they were making movies like that anymore. ...  They're all over the map, all I know is that I felt transported in each of them and it felt in a specific kind of cinematic way and heck, I even loved Outland, you know, I was just you know, and I just wanted – I remember telling my crew when initially I was bringing them on. My D.P.s I said, and my Production Designer, I said, I want it to feel like we found Wall-E, the movie in a film can and it was made in the seventies and we just soft unearthed it and re-mastered it, so I said, I know that's kind of an abstract thing, but that's what I'm shooting for and then we just did a lot of analysis of what that meant, you know, down to like the kind of cameras and lenses that were used commonly on those movies and things like that."
WALL-E hits theaters on June 27th 2008.