This Week In DVD: New Futurama Movie, 10,000 BC, In Bruges, Spiderwick Chronicles, And More
This Week in DVD is a new column on /Film compiling all the latest info regarding new DVD releases, sales, and exclusive deals from stores including Target, Best Buy, Circuit City, and Fry's.

FUTURAMA: THE BEAST WITH A BILLION BACKS
Continuing its semi-return from the Fox cancellation grave yard, Futurama finally releases its second direct-to-DVD feature out of four with The Beast with a Billion Backs. It's not nearly as dramatically compelling or well paced as Bender's Big Score (that film was so good it had the potential to be made as a theatrical release), but it does up the ante on laughs, which is debatably something the former picture was lacking. Who really cares though? The important thing is that Futurama is back, and personally, I couldn't be happier to see it return.
Blu-ray? No.
Notable Extras: Audio commentary from the cast and crew, 'Futurama: The Lost Adventure' (featuring the cut-scene footage from the Futurama video game), a joke interview with comedian David Cross, deleted scenes, a featurette detailing the history of the game Death Ball, and footage of voice recording outtakes.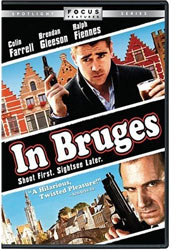 IN BRUGES
This film marks one of those instances where the trailer prepares you for a movie so vastly different than the actual film that the film itself is harder to enjoy because of it. It's still a solid movie though, so I'll just warn you to avoid viewing it with the expectation of something Guy Ritchie or Tarantino-esque. Its witty and raunchy dialogue may come across as similar at times, but the movie is also very slowly paced, focusing heavily on existential and religious themes atop all the profane comedy. It's definitely not your standard hitman film.
Blu-ray? No.
Notable Extras: Deleted and extended scenes, four featurettes, and a gag reel.
EXCLUSIVE DEAL:
What? Save $5 when you buy In Bruges with either Charlie Bartlett, Definitely Maybe, or Bonneville.
Where? Best Buy.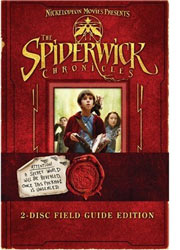 THE SPIDERWICK CHRONICLES
(Available as single-disc and 2-Disc Field Guide Editions)
Starring Freddie Highmore and featuring plenty of fantastical creatures, this movie may seem like it's simply treading the same water as Arthur and the Invisibles. However, this children's adventure (based on the popular book series of the same name) has the heart and imagination lacking in that film, and succeeds much more admirably because of it.
Blu-ray? Yes.
Notable Extras: The 2-disc set includes deleted scenes, six making-of featurettes, and Arthur Spiderwick's Field Guide (which includes reprinted pages from the book while letting you access relevant scenes from the film).
*Does not include 2-Disc Edition, which costs $22.99 at each of the listed stores (excluding Fry's, where it costs $21.99).
EXCLUSIVE DEAL:
What? Free Spiderwick Movie Storybook and bookmark with purchase of single-disc DVD.
Where? Target.
EXCLUSIVE DEAL:
What? Free "The Field Guide" book.
Where? Best Buy.
EXCLUSIVE DEAL:
What? Free Spiderwick Chronicles trading cards.
Where? Circuit City.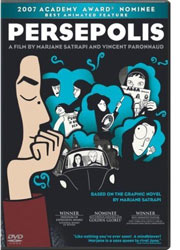 PERSEPOLIS
With a 95% ranking on Rotten Tomatoes and an 8.1 rating on IMDB, Persepolis (based on Marjane Satrapi's bestselling graphic novel) is by far one of the year's most celebrated animated films. Shot in black-and-white, the movie uses its inventive visuals as a way of setting the tone for the deeply compelling coming-of-age story ahead. The plot explores a young Iranian girl's attempt at finding her place in the world during the Islamic Revolution.
Blu-ray? Yes.
Notable Extras: Commentary on select scenes, a 30-minute documentary, a making-of featurette, and a Q&A from the film's 2007 Cannes Film Festival Press Conference.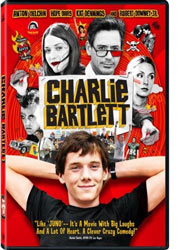 CHARLIE BARTLETT
A mixed bag overall, Charlie Bartlett is an uneven yet oftentimes hilarious teen angst comedy about a wealthy teenager finding his place in the social hierarchy by becoming an unofficial school psychiatrist. It also stars Robert Downey Jr. in a supporting role, and as a rule I like to force myself to see every movie he's in. You might want to consider doing the same, because with the filmmography he's been building recently it's really starting to pay off.
Blu-ray? No.
Notable Extras: Three audio commentaries, featurettes, deleted scenes, and restroom confessionals.
EXCLUSIVE DEAL:
What? Save $5 when you buy Charlie Bartlett with either In Bruges, Definitely Maybe, or Bonneville.
Where? Best Buy.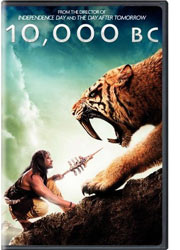 10,000 BC
Favoring a focus of style over substance (and logic for that matter), director Roland Emmerich's epically stupid journey into the prehistoric era is both bland and frustrating to watch. The film doesn't even make an attempt at being historically accurate, and the lack of effort shows. It might be so-bad-it's-good were it actually entertaining.
Blu-ray? Yes.
Notable Extras: An alternate ending and 10 minutes of deleted scenes.
EXCLUSIVE DEAL:
What? 2-Disc Special Edition ($22.99).
Where? Best Buy.
Other noteworthy DVDs available this week...
Definitely, Maybe – The Hammer – Honeydripper – Xanadu (Magical Music Edition) – Trailer Park Boys (Season 7) – Bonneville – The Tattooist – Early Edition (Season 1)
Discuss: What are you planning to rent or buy this week?


$17.99 – Arrested Development (Seasons 1, 2, or 3), The Simpsons (Seasons 7 or 8), Monk (Seasons 1, 2, 3, 4, or 5), Weeds (Seasons 1 or 2), Flight of the Conchords (Season 1), The Office (Season 1), The Boondocks (Season 1), and more...
$13.99 – The Incredibles, National Treasure 2: Book of Secrets, Finding Nemo, Pirates of the Caribbean: At World's End, Toy Story (10th Anniversary Edition), Toy Story 2 (2-Disc Special Edition), and more...

$14.99 – Da Ali G Show (Seasons 1 or 2), American Gangster (2-Disc Unrated Extended Edition), I Am Legend, Semi-Pro, Juno, The Bucket List, Be Kind Rewind, The Bourne Ultimatum, and more...

Buy one, get one free ($9.99) – Blade, Speed, Cast Away, Sideways, This is Spinal Tap, Tenacious D in The Pick of Destiny, Master and Commander, The Replacements, and more...
$6.99 – The Bourne Identity, King Kong, Jurassic Park, 300, Troy (Director's Cut), Full Metal Jacket, Children of Men, School of Rock, Sleepy Hollow, Wallace & Gromit: The Curse of the Were-Rabbit, A Series of Unfortunate Events, Shark Tale, Chicken Run, Flushed Away, Madagascar, Over the Hedge, Antz, Shrek 2, and more...

$3.99 – Big Trouble in Little China, Cocoon, Great Expectations, and more...
$4.99 – Dumb and Dumber, Frequency, and more...
$6.99 – 28 Days Later, Edward Scissorhands, Alien, Aliens, True Lies, From Hell, and more...