Religulous Movie Trailer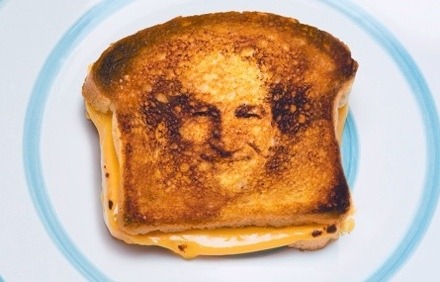 Lionsgate has finally released a movie trailer for Larry Charles' documentary Religulous, which follows Bill Maher as he travels around the globe interviewing people about God and religion. The official plot synopsis reads: "Known for his astute analytical skills, irreverent wit and commitment to never pulling a punch, Maher brings his characteristic honesty to an unusual spiritual journey." I got the chance to see about 15 or 20 minutes of the film last year at the Toronto Film Festival, and laughed quite a bit. It's more Michael Moore meets Jay Leno's Jaywalking than Borat, but I understand with Charles at the helm, you need to play that card.
I love the part in the trailer where Maher asks the the guy who plays Jesus Christ at a Catholic Theme Park why God doesn't obliterate the devil and thereby destroy all evil in the world. And Jesus responds "He will." If I remember correctly from what was said at Toronto, Maher was actually kicked out of the park after the interview. And I understand that to some, Maher may come off as abrasive, but you have to his comic delivery. For instance his whole rant on Santa Claus. I have also included statements from both Maher and Charles after the jump. As always, tell me what you think in the comments!
[flv:http://bitcast-a.bitgravity.com/slashfilm/trailers/religulous.flv 470 250]
Watch the trailer in High Definition on Apple. Religulous hits theaters on October 3rd 2008.
A Statement from Larry Charles
Ok.  An old God, a very buff old God that lives in space decides to create the first man from earth dust, then makes a woman from that man's rib.  They get to live forever if they don't eat the forbidden fruit from the tree of knowledge, but the woman is tricked into eating a piece by a talking snake and all future humanity is cursed.  Or, how bout this one?  This same space God who lives in the sky and has power over everything decides he wants a son, so he impregnates a woman but she remains a virgin.  And, the child can walk on water and raise the dead.  But his father, the sky God, sends him on a suicide mission to save humanity.  After he dies, he rises from the dead and flies into space to be with his father (who is also him.)
Greek myths?  The latest installment of the "Lord of the Rings"?  Disney's new animated movie?  No!  These are the foundations of Western religion.  The tenuous shaky belief systems that our entire civilization rests upon.
What do you believe, why do you believe it, and why do you need to believe it?  Can we be good without God?  Is religion a calling or a mental illness?  Were Jesus, Moses and Mohammed prophets and visionaries, or crackpot nut cases who today would be put away?  Is religion an obsessive-compulsive disorder?
Comedian, acerbic commentator, raconteur, skeptic, seeker Bill Maher and I set off in search of answers to these questions in a raunchy, rude, irreverent, outrageous, and shocking nonfiction film about the greatest fiction ever told.
Set to the rhythms of "Sympathy for the Devil" and "Jesus Walks," from the Western Wall to the Vatican, from self-professed messiahs to self professed Pariahs, we will not only expose the hypocrisy and corruption in organized religion but the absurdly hilarious logic that holds it together.
We will talk to clergy, extremists, scholars, politicians, ex-cons, the man on the street and even the man upstairs (that's right, we interview God.)
The funny will be scary, the scary wildly funny.  The crazy will seem sane and the sane absolutely and undeniably crazy.  All lines are blurred.  All bets are off.   We will get inside, on top of, behind, and in front of religion.
–Larry Charles
A Statement from Bill Maher
Since starting on Politically Incorrect in 1993, it has been my pleasure over the last decade and a half to make organized religion one of my favorite targets.  I often explained to people, "I don't need to make fun of religion, it makes fun of itself."  And, then I go ahead and make fun of it too, just for laughs.
With religious fanatics like George Bush and Osama bin Laden now taking over the world, it seemed to me in recent years that this issue — this cause of debunking the man behind the curtain — needed to have a larger, more insistent and focused forum than late night television.  I wanted to make a documentary, and I wanted it to be funny.  In fact, since there is nothing more ridiculous than the ancient mythological stories that live on as today's religions, this movie would try to be a real knee slapper.  Unless, of course, you're religious, then you might not like it.
Who could I get to direct me on such an epic quest?  In reality, there was only one man, and his name is Larry Charles.  I hope that together we fulfilled that quest.  Which really isn't that hard, considering that comedically speaking, the topic of religion is pretty much hitting the side of a barn.
As a comedian, religion has always interested me — it was the single easiest subject to make jokes about.  I think that tells us something:  comedians look for things that don't make sense, that are illogical.
Even as a young comedian, routines I did that got the biggest laughs and got me invited back on the Tonight Show were the religious ones — like the one about being half Catholic and half Jewish and bringing a lawyer into confession:Â  "Bless me father for I have sinned — and I think you know Mr. Cohen . . ."
Politics is a rich area, but even politicians, although they promise some ridiculous stuff, don't approach the level of, for example, the Mormon practice of promising couples a planet to rule over in the after life if they have a really good marriage on earth.  They give you a planet — kinda like when someone gives you a certificate that says a star has been named after you — except here, they really give you the star!
Join me in the final battle between intelligence and stupidity that will decide the future of humanity.  Coming soon to a house of false idols near you.
–Bill Maher