Box Office Tracking: Indiana Jones 4 On Over 9,500 Screens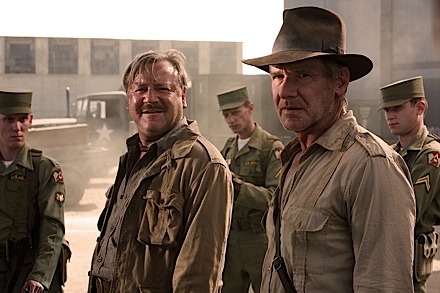 Paramount will release Indiana Jones and the Kingdom of the Crystal Skull on over 9,500 screens (4,260 official playdates) according to Steve Mason. MovieTickets.com reports that as of 4:15 p.m. ET, the movie has accounted for 77 percent of its total tickets sold today. And the total volume of Indiana Jones tickets sold at MovieTickets.com tripled from Sunday (5/18) to Monday (5/19).
The film is scheduled to premiere nationwide at midnight. As of 8:00pm, The Arclight Theatre in Hollywood has a total of 9 sold-out shows, start times ranging from  12:01am to 12:46am. The Regal E-Walk Stadium 13 in Manhattan has sold out six out of its seven midnight shows. Mason believes that the film could gross $3M-$4M in after midnight business, and industry analysts are predicting anywhere from $150 to $190 Million for the first five days of release (Thursday through Memorial Day Monday).
Because of the Thursday release date, it is unlikely that Indy will break the All-Time Memorial Day weekend record of $139.8 million set by Disney's Pirates of the Caribbean: At World's End last year. However, Crystal Skull has a chance to beat the $172.8 Million 5-day record set by Star Wars: Episode III â€" Revenge of the Sith. The film is currently holding positive on Metacritic (66%) and Rotten Tomatoes (78%).