The Joker, Lex Luthor, The Riddler To Appear In David Goyer's Supermax?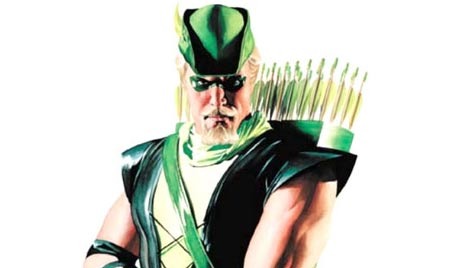 Get your most asinine soap joke ready in the comments, because it seems that Green Arrow will be joined behind bars by a vast and infamous stable of DC villains in David Goyer's Supermax. Latino Review took a look at the script by Goyer (Batman Begins, X-Men Origins: Magneto) and Justin Marks (that new Street Fighter) and reports that The Joker, Lex Luthor and The Riddler all make sweet cameos inside the script's titular prison alongside a laundry list of other DC derelicts including: Blockbuster, Shock Trauma, Gemini, Cascade, Tattooed Man, Multiplex, Djinn, Merlyn, Pied Piper, Latarian Milton, Iron Cross & Heatmonger & Backlash (Aryan Nation), Calculator (yes!), Count Vertigo, Floronic Man, Split and Icicle. Okay, so Latarian Milton is not appearing, but give him a year.
Previously, Goyer stated that many of these villains will be revealed by human name only and sans costumes (obviously), which further exemplifies just how Geek City this project is. LR's consensus is that the Supermax script is both ridiculously cool and highly accessible to the mainstream, comparative to Batman Begins even: "[Warner Bros.] would be on crack not to make this." Goyer and Marks quickly touch upon the island cast-away/archery origins of Green Arrow né Oliver Queen, yet another billionaire playboy in our world's comicverse, and by page 7 (approx. 10 years later), we see Queen in costume and encountering the arrow-laden set-up that lands him behind bars. And not just the bars you'd imagine in an old Elmore Leonard paperback...
"Want to know how cool SUPERMAX is? The prison changes shape, cells rearrange, and reconfigures every night to disorient the prisoners from breaking out. A transforming super prison!"
Applying extra heat to the situation, Queen becomes a, uh, marked man inside due to corporate backstabbing (shades of Iron Man). I've always thought that Green Arrow was a hard sell to a big summer audience, but some of my doubts are fading and I can't wait to check this script out. Of course, as we reported last year, Matt Damon was once rumored for Green Arrow, and if the script's this strong, I'm sure other A-listers will bite as well. Let's hope it happens.
A thanks to Slashfilm canuck Jonny for the reminder. Moreover, Canada is still Canada.
Discuss: Do you think The Joker will still show up post-Ledger when (a smaller if) Supermax goes into production? For you, where does Supermax rank in terms of upcoming comic book flicks? I dig the title but who else thinks it won't stick to the marquee?