Three Video Clips From Charlie Kaufman's Synecdoche, New York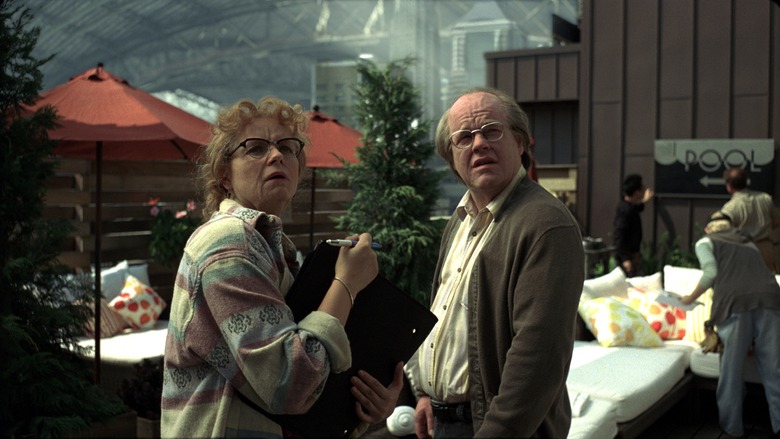 Cannes2008 has released thre first three clips from screenwriter Charlie Kaufman's (Being John Malkovich, Adaptation., Confessions of a Dangerous Mind and Eternal Sunshine of a Spotless Mind) directorial debut Synecdoche, New York. The three clips don't reveal much. The first screening of the film happened at Cannes on Saturday. Anne Thompson writes that those who have seen it describe the movie as "ambitious, arty and brilliant, if not entirely accessible." Others have said that like Eternal Sunshine, Synecdoche stays with you for a few days.
Synecdoche, New York stars Philip Seymour Hoffman as a theater director named Caden Cotard, whose life in Schenectady, New York is looking bleak. His wife Adele has left him to pursue her painting in Berlin, taking their young daughter Olive with her. A new relationship with the alluringly candid Hazel has prematurely run aground. And a mysterious condition is systematically shutting down each of his body's autonomic functions. Worried about the transience of his life, he moves his theater company to a warehouse in New York City. He directs them in a celebration of the mundane, instructing each to live out their constructed lives in a growing mockup of the city outside. Catherine Keener, Michelle Williams, Samantha Morton and Tilda Swinton co-star.
Kaufman described the film to the hollywood reporter: "it's about people's losses and death and fear of death and intimacy and relationships. Romance and regret and struggle and ego and jealousy and confusion and loneliness and sex and loss — all those things are in the movie. I wanted it to be an all-inclusive experience of a person's life. It's this guy's world."
Check out the three video clips after the jump.
[flv:http://bitcast-a.bitgravity.com/slashfilm/trailers/synedoche3.flv 450 214]
[flv:http://bitcast-a.bitgravity.com/slashfilm/trailers/synedoche2.flv 450 214]
[flv:http://bitcast-a.bitgravity.com/slashfilm/trailers/synedoche1.flv 450 214]