Peter Jackson's The Lovely Bones Stops Filming Due To Creative Rift?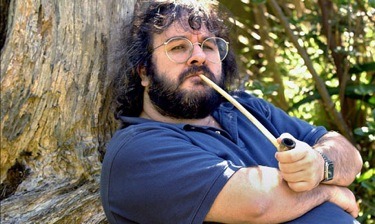 Pardon the Christopher Guestish humor in this situation, but Flicks.Co.NZ is reporting that Peter Jackson and one of his art directors are in a big tiff on the set of The Lovely Bones. Why? Because they can't agree on the film adaptation's notion of Heaven. Filming has temporarily stopped until The Pearly Gates, a major aspect/set in the film, meets Jackson's satisfaction. "More clouds I say!" Crew is said to be on an extended break for cigarettes and GTA4.
You may recall that Jackson had a prior creative difference when he replaced Ryan Gosling, who had gone pudgy for a major role, with Mark Wahlberg. And recently, Susan Sarandon offered a little creative dissonance while on the Speed Racer red carpet to Empire...
"Peter Jackson is really a nice guy and very interesting. It was really a very different way of working. We had a good time, I'm really curious to see what it's like because he kept pushing me to be more and more extreme and sometimes that's when you make your big mistakes so I'm not sure how it will come off – it will be interesting to see it from the point of view of the audience."
Sarandon went on to say that her character, Grandma Lynn, didn't seem like a "real grandmother," and seemed more like an alcoholic, tacky caricature there to serve comic relief. So, does this all equal another case of the trendy "complicated birthing process" or is it a troubling sign of things to come for the actual film? As long as Heaven doesn't resemble a wet hallucination straight out of What Dreams May Come, I'd say Jackson is undeserving of the nickname "Cloudy Killjoy."
Discuss: What cinematic heaven met your personal VIP standards? I'd have to default and go with Bernie's MO in A Weekend at Bernie's.