College: New Poster With New Release Date

At a party a couple weeks ago I got to talk to Dan Callahan, an actor who wrote wrote a film called College, which was originally scheduled to be released last month. I'm not entirely sure what happened, but you can be sure it was one of those Hollywood situations where somehow the film went from being distributed by Lionsgate to becoming an MGM release. The release date changed to August 29th, and now they've released a new poster (via: cinematical). It's pretty much the same design as the old poster, but instead of white lettering on an orange background, we now have orange lettering on a white background.
The story follows three high school seniors who visit a local college campus as prospective freshman for a weekend of wild antics. Callahan explained that the film is like SuperBad but less smart and more vulgar, a throwback to the great raunchy teen comedies of my youth like Porky's. Although it sounds more like PCU or Revenge of the Nerds (not that that's a bad thing). I'm all for more raunchy teen comedies, especially if they're fun.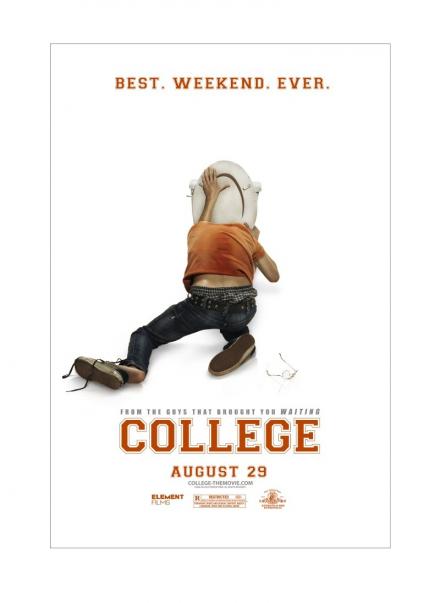 Discuss:Â  Should Hollywood make more or less raunchy teen comedies?