Dark Sky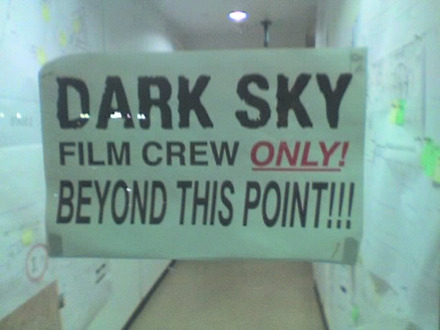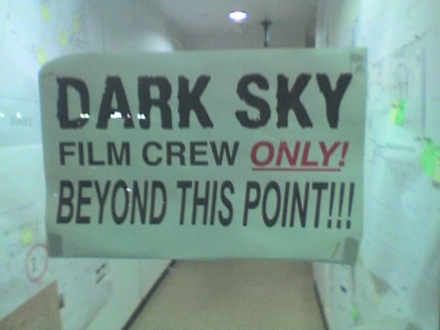 What is Dark Sky?
/Film reader Dort Druben sent in the following report:
—-
So working at Culver Studios a few weeks ago I noticed a very ominous sign telling me subconsciously that if I entered through that doorway ninjas would descend upon me ripping my heart out of my chest before I could cross the threshold. Maybe that's a bit extreme.
But I searched, wondering, what is, "Dark Sky"? The said sign is the attached image from my camera phone. I posed the question to some friends and didn't think much of it.
Well I was back working at Culver Studios I noticed a truck "Dark Sky Transportation". Then when driving off the lot after a tiring day I started passing "reserved" parking spaces. One caught my eye. Stephen Sommers. I hit reverse and looked again. DARK SKY: Stephen Sommers. Next to him, Lorenzo di Bonaventura. So there it is. DARK SKY is code for GI JOE. Now I don't know if that is old news or not. But there it is. I don't know if they're shooting at Culver Studios or if its just the production offices. I do know that State of Play is happening at Culver Studios. That tiny lot is getting some big action.