So, Wassup With John Hughes?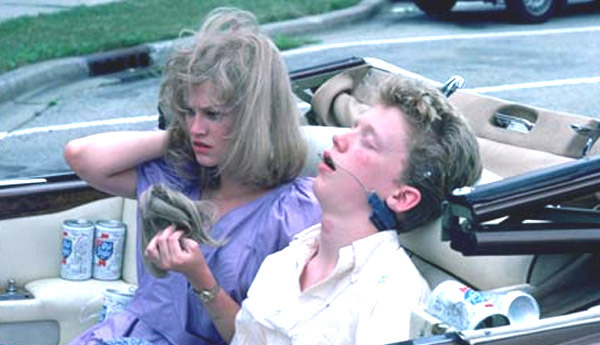 "Did he make a comeback yet?"
In a recent interview with the L.A. Times, Kevin Smith called '80s director/'00s recluse John Hughes his "generation's J.D. Salinger." I'm not going to get into that comparison, no way, but it's worth mentioning that Salinger hasn't written anything in 40 years, whereas Hughes hasn't done much movie-wise in a decade. He has more in common with Terrence Malick (20 years between Badlands Days of Heaven and The Thin Red Line) than the completely AWOL Salinger.

Recently, Hughes received a credit under an alias for his, albeit old, story idea for Drillbit Taylor. Sure that film flopped hard, but its release has given the media reason to put out a Hughes APB and it's hit the Internet pretty hard. Driving home on Monday, I heard a report on NPR about race and the unflappable popularity of Hughes's character Long Duk Dong from Sixteen Candles. It's clear that audiences still want the real deal to return, especially during this current hunger for the '80s and LOL comedy.
As the Times points out, Hughes still maintains select ties to showbiz folk, notably producer and friend Tom Jacobson, and he met with Vince Vaughn a few years ago. I know, big deal, but he's not exactly chain smoking, shooting guns in his house and sleeping in his bowling alley. Will the man who perfected the affable white goofball in beloved, classic films like Weird Science, Planes, Trains & Automobiles and The Breakfast Club really never write/direct another movie? Ever? You really think so? Even with comedy's ring leader and producer of Drillbit, Judd Apatow, offering gushers like...
"John Hughes wrote some of the great outsider characters of all time," says Apatow. "It's pretty ridiculous to hear people talk about the movies we've been doing, with outrageous humor and sweetness all combined, as if they were an original idea. I mean, it was all there first in John Hughes' films. Whether it's 'Freaks and Geeks' or 'Superbad,' the whole idea of having outsiders as the lead characters, that all started with Hughes."
Apatow uses the same kind words for director Harold Ramis (Caddyshack, Vacation, which Hughes wrote) and now he's producing Ramis's arguable comeback film, 2009's anticipated Year One. So you have to wonder, with all of Apatow's conecs and influence, has he not mentioned an official return to comedy to one of his biggest inspirations? Jus' sayin'.
Discuss: Would you like to see John Hughes return, as long as it's not Curly Sue Squared? Moreover, what are the odds we'll see it happen?