Kevin Smith On Zack And Miri: Editing, Poster, Soundtrack, Release Date And More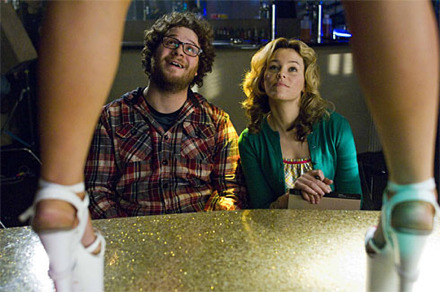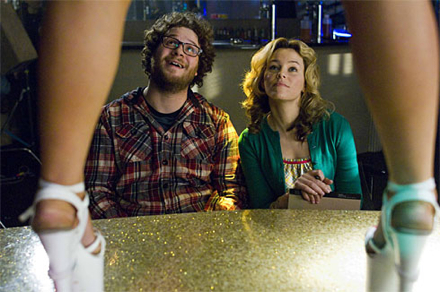 Kevin Smith has updated his fans on the post-production of his latest, Zack and Miri Make a Porno. Kevin revealed that the 110-page shooting draft resulted in a first cut that was "over two and a half" hours long. 25 minutes have since hit the cutting room floor, and Smith gives us the following update:
"At one a.m. this morning, I finally got the flick down to an even two hours (there is, however, and additional four minute epilogue that runs during the credits, but that doesn't count at the moment). Two hours is the length I was gunning for for the [internal test] screening. This is not to say the theatrical running time will be two hours or anything close to it. But two hours is a good starting mark in advance of the standard test screening process. The aim is to use said [test] screening to look for other cuts – because right now, the fat's trimmed away; any further cuts are all about story and jokes, and I'd rather a mass audience reaction let me know how much is needed/what can go." "Carla and Scott will watch it today. Marketing people watch it Monday (though more for their print campaign than to offer cut suggestions)."
Smith says the longest the theatrical cut will be is "Maybe… maybe… two hours with credits", which would be long for a comedy (so I'm guessing he's aiming for 100-110 minutes).
The "poster shoot for Rogen and Banks in mid-April (everyone else has been shot already, while we were still in production). I imagine the poster will be up by June/July." Smith doubts that he'll be screening the whole film at Comic Con in July where he is likely to make an appearance (with footage in hand). Kevin is thinking of cutting a few internet teaser trailers, so we might not have to wait until August 8th (Pineapple Express) to see some footage from the movie.
The score will be comprised of a mix of existing songs and porno-style soundtrack. As for the performances, Smith admits that neither him or producing partner Scott Mosier appear on screen during Z&M. On Jeff Anderson, who played the smart-ass Randal in Clerks, Smith reveals "His character can be a smart-ass, and in the flick, he is a friend; yet I'd be hard-pressed to describe his role as the smart-ass funny friend. I don't know how I'd describe him in the flick, except to say he's one of the wack pack."
As for friend and returning cast member Jason Mewes (the Jay of Jay and Silent Bob), Kevin claims "it was actually the role Mewes was born to play, in a weird way. Even moreso than Jay." Also, Kevin would "be surprised if" Porn star Katie Morgan didn't get some more mainstream films because of her part in Zack and Miri.
"She's pretty funny in the flick. When Harvey watched the first few cut scenes and met Katie, he said "Holy shit, she's Judy Holliday."
When questioned about the announced October 31st release date, Smith hinted that it could change due to 007 (which hits theaters one week later on November 7th).
"Now that the Bond movie has moved up, who knows? If it's gonna move, it's only because Bond just moved up. 'til the squeamish tell me differently, it's 10/31."
Discuss: Will 007 hurt Zack and Miri?