Rambo 5: Bulgaria Serving As America?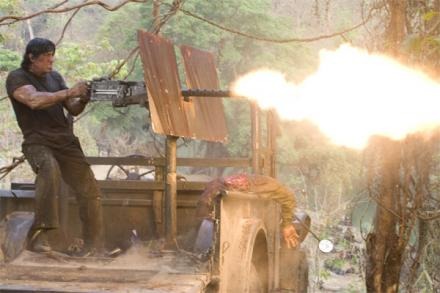 Three days ago we came across a production listing for Rambo 5 on an international film news website. The rumored next installment in Sylvester Stallone's second biggest franchise was listed to shoot on one or more new sound stages now being constructed in Bulgaria by a major European production studio. While Sly has played up his nickname on the sequel subject, the rumor was even stranger since January's Rambo movie seemed to set up a return to America for the character. Bulgaria?! 
Today, Clint at MovieHole reports that a close source tells him that Bulgaria will actually serve as Rambo's hometown "somewhere in Arizona" in the film. Yeah, I laughed too. Not because I think this is necessarily untrue, but, well Rambo's gotta eat I guess. Here's the tipster...
"The street sets of Bulgaria that are getting the makeover, the same ones that were rented out and used in Van Damme's The Shepherd, will be doubling for Rambo's hometown, which is supposed to somewhere in Arizona."
While Stallone filmed a good portion of his last flick in Thailand, that's where the awesome film was set. Without spoiling anything, the end of Rambo T'd up a pretty epic storyline or two, like "Rambo vs. Terrorists" or better, "Rambo vs. USA...Again," and then there's Stallone's interviews where he says he wants to take the character into a different genre.  This is all speculation, but I guess if Lake Placid 2 passed off Bulgaria for the States, uh, Stallone could do it, too. But what about Vegas, Fort Bragg, LAX, the Hollywood sign, and Rupert Jee's Hello Deli? Rambo needs to hit the road in a battle wagon and make like Clark Griswold or Henry Rollins.
Discuss: If Rambo 5 is set in the USA, where should the character kill people? Â