SXSW Movie Review: Dreams With Sharp Teeth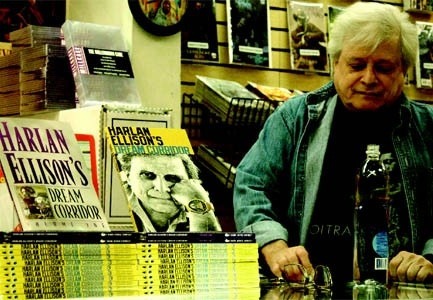 Dreams with Sharp Teeth, a twenty-six-years-in-the-making bio-doc on the life, times, rants, and raves of science fiction writer/raconteur Harlan Ellison directed by Erik Nelson, is a perfect primer for anyone unfamiliar with Ellison's contributions to the written word, television, and film. Be forewarned, though, Nelson gives Ellison free reign to express his dissatisfaction about anything and everything, from television as opiate (an old argument, that) to creator rights in a tangled, media-saturated world. As fascinating as Dreams with Sharp Teeth is, it's also frustrating for the questions Nelson doesn't ask (probably to avoid a patented Ellison rant or rave about whatever subject crosses his path).
Like any bio-doc, Dreams with Sharp Teeth fills in Ellison's background in broad strokes. Ellison was born in Cleveland, Ohio, but his family moved to Painesville, Ohio early on. Small for his age and Jewish, Ellison was beaten by with regularity by neighborhood kids. Ellison moved to New York City in the early fifties. After some success, the army drafted him. Ellison survived by writing letters for other soldiers. Back in New York City, Ellison returned to his writing career. By the mid-1960s, Ellison had become an established name in speculative fiction, writing episodes of The Outer Limits ("Demon with a Glass Hand") and Star Trek: The Original Series ("The City on the Edge of Forever"), and winning Best Original Teleplay awards from the Writers Guild. An attempt at writing screenplays for Hollywood failed (The Oscar often appears on all-time worst lists).
In 1967, Ellison edited "Dangerous Visions," a collection of short stories written by established and new-to-the-field writers while continuing to write fiction on his own. The seventies saw Ellison continue writing speculative fiction, along with essays, and other non-fiction work. One of his short stories was adapted into A Boy and His Dog, a post-apocalyptic tale starring Don Johnson (of Miami Vice fame). All told, Ellison has written more than 1,700 short stories (including novellas), 75 books, and numerous teleplays. Ellison has won ten Hugo Awards, four Nebula Awards, and five Bram Stoker Awards including the Lifetime Achievement Award in 1996. He has also won two Edgar Awards (given out by the Mystery Writers of America).
In addition to excerpts of interviews or coverage of award ceremonies and public appearances Nelson made over twenty-six years ago, Nelson includes interviews with comedian/actor Robin Williams, writer Neil Gaiman (Stardust, Neverwhere, Anansi Boys, American Gods, Sandman, comic book writer and novelist Peter David (X-Factor, She-Hulk, Fallen Angel), writer/producer Ronald D. Moore (Battlestar Galactica, Star Trek: The Next Generation), Carol Cooper, a cultural critic for the Village Voice, and in archival footage that dates back to the mid-1970s, the late Tom Snyder. They offer insight into Ellison's work and place in literature to varying degrees, but they're really at their more interesting or engaging when sharing their personal experiences as Ellison's friend or acquaintance.
Ultimately, though, Dreams with Sharp Teeth will be worthwhile only to the extent that you're interested in Harlan Ellison, whether out of curiosity, given his status as former enfant terrible turned petulant provocateur, or because you've read some of his short stories or essays and want a deeper introduction to Ellison, his life and his work. Either way, be prepared for some of the most engaging and, on occasion, some of the most discomforting rants and raves about everything and nothing you'll see in a documentary this year or any other year.