I Believe In Harvey Dent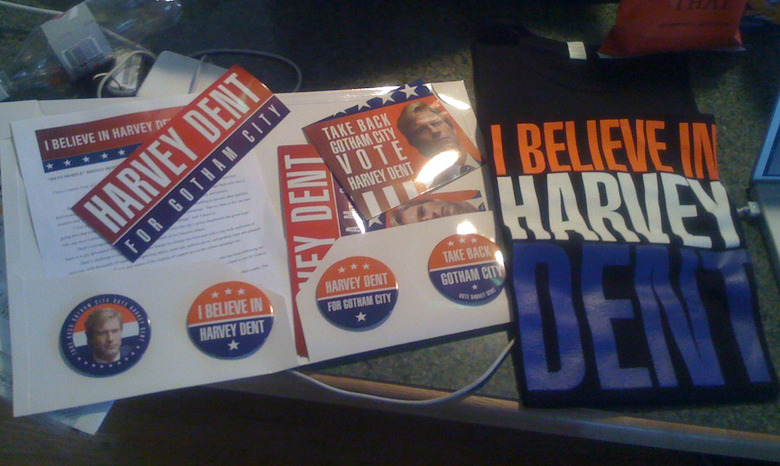 I just received a package via FedEx at the house that we're staying at in Austin Texas for SXSW. I don't know how they found me, but they did. The return address on the FedEx package lists an address for the I Believe in Harvey Dent Campaign Office. Inside was a folder containing a press release (written in character) about how an independent grassroots movement of Gotham City citizens are traveling around to garner support for Gotham City's Harvey Dent potential decision to run for District Attorney. A quote from the press release reads:
"This is our last chance," said Laverne DeFoliano, a Gotham mother of four who has been following the Dentmobile in her Chevy station wagon the entire trip. "Unless we can convince Harvey Dent to run for District Attorney, the mobsters and thugs will take over the city and bleed it dry."
No where on the package or included press release and materials is The Dark Knight or Batman even mentioned. Just IBelieveinHarveyDent.com. The folder included campaign buttons, bumper stickers, postcards, and even a t-shirt. All these materials are being passed out at the scheduled stops on the Dentmobile tour (check here for a schedule of when they will be in your city). Help take back Gotham City!