The Enchanted Visual Guide

When I talked to director Kevin Lima after seeing Disney's Enchanted, he told me that the film featured a ton of easter eggs referencing the classic Disney animated films. I know I had seen a few, but he claimed their were thousands of little things. To promote the DVD release of Enchanted, Disney has released a bunch of photo stills on Cinematical and ComingSoon comparing the framing of some classic Disney animated films and scenes from Enchanted. Check out 12 of the photos below, or visit the aforementioned sites for larger versions.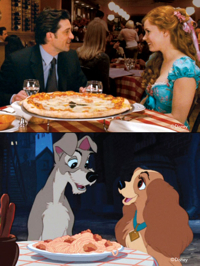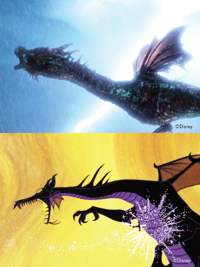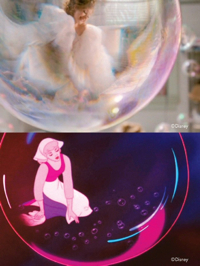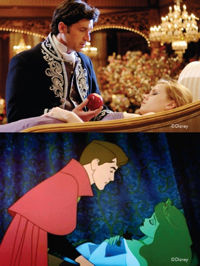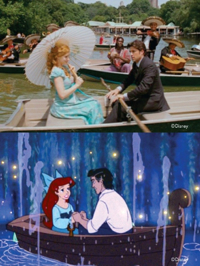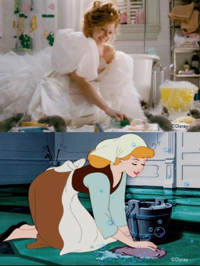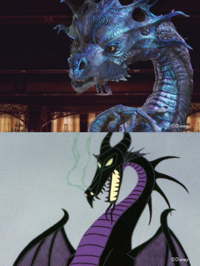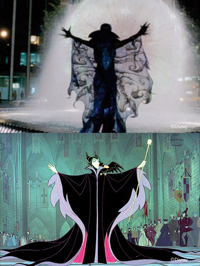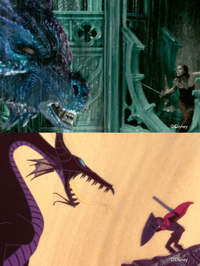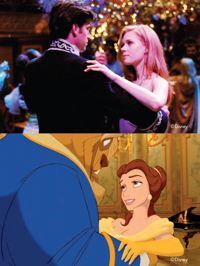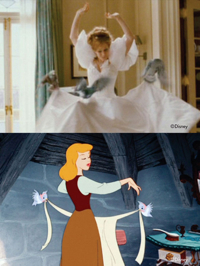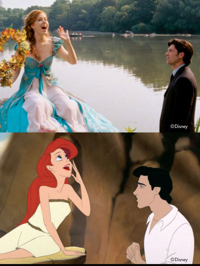 A few other trivial tidbits include:
The bus driver's hair is shaped like Mickey Mouse's ears.
Robert's law firm is called Churchill, Harline and Smith, the surnames of the songwriters from Snow White and the Seven Dwarfs.
The Grand Duke hotel in which Edward stays is named after the character in Cinderella.
Cathleen Trigg's character's name is Mary Ilene Caselotti. This is a tribute to Mary Costa, the voice of Disney's Sleeping Beauty, Ilene Woods, who did the voice of Disney's Cinderella, and Adriana Caselotti, the voice of Disney's first princess, Snow White in Snow White and the Seven Dwarfs.
The old men dancing in the park musical sequence were chimney-sweepers from Marry Poppins.
Robert's (Patrick Dempsey) last name is Philip – the name of the prince in Sleeping Beauty.
Nancy's last name is "Tremaine", the same last name as the Evil Stepmother in Cinderella.
The Television reporter is named Mary Ilene Caselotti, a combination of Mary Costa (Sleeping Beauty) and Adriana Caselotti (Snow White).
One of the doors that Prince Edward knocks on is apartment 714, which is the area code for Orange County, where the original Disneyland park is located.
The three previous Disney animated princesses make appearances in Enchanted: Jodi Benson (Ariel in The Little Mermaid), Paige O'Hara (Belle in Beauty and the Beast), and Judy Kuhn (Pocahontas).
Julie Andrews (Marry Poppins) provides the voice narration.