Harvey Dent Making Phone Calls Across The Nation! Dent's Website Completely Revamped!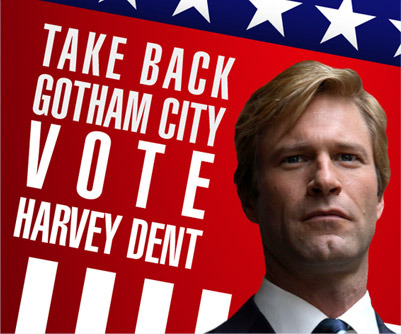 If you receive a call from a number marked 1-000-000-0000, pick it up, it's Harvey Dent and he wants your vote! The Dent viral campaign for The Dark Knight has kicked off something fierce this evening. Not only are the prerecorded calls going out from Dent himself, but IBelieveInHarveyDent.com has been uploaded with a boatload of information. We're talking a "Dentmobile" that will be touring the nation shortly. Here is the transcription of Dent's phone message (thanks to Slashfilm reader The Addict). You can now hear the message in mp3 format on the official site as well. Is it just me or does he sound like Henry Rollins?
"Hello, I'm Harvey Dent, Assistant District Attorney of Gotham, and I'm calling to ask for your support. We all know what's wrong with Gotham. Crime is out of control. And instead of protecting our streets, too many cops have become criminals themselves.
This is why my mission has been to stamp out police corruption, and this is why I'm considering a run for district attorney. But I can't do it alone. I need to know if you, the people of Gotham, want change. Do you want a Gotham free from the grip of criminals and the corrupt? Are you ready to join a crusade to take back our city? If this is a change you desire, if you are fed up with living in fear, go to ibelieveinharveydent.com and see how you can join the struggle to take back our city. I'm ready to fight for Gotham, if you are ready to fight too."
After the jump I'll break down what's been added to the site...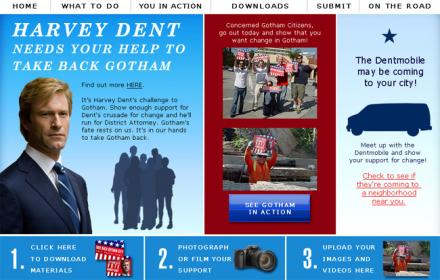 There's not a whole lot of revealing information on the site, but there is a lot of pro-active potential for movie fans. The site aesthetic (screen shots via Hollywood Chicago) is pretty cool as well, totally sending up current American politics on the web and doing it better than many of the presidential candidates. To support Harvey Dent's campaign for Gotham District Attorney, you can download an array of banners and the site suggests rather intensive ways to get involved and submit your participation for presentation on the site...
• Get your friends together and spell out Harvey Dent in human letters• Get a video of your school's cheerleading team yelling out chants for Harvey Dent• Try to cover every square inch of someone's cubicle area with Harvey Dent posters• Write and perform a "Take Back Gotham" song• Make up a "Dent Dance" routine• See if you can get up a Harvey Dent sign in every single window of your dorm building• Turn your own car into a "Dentmobile"• Arrange a Dent parade down Main Street• Make a human pyramid with other Harvey Dent supporters
I like the third one. Way to instigate an office war to end all wars faster than stealing a red stapler. And what the hell is a "Dent Dance" routine? Even with a few beers in and having just watched Craig Ferguson I can't imagine what such a dance would look like. The deadline to submit all of this stuff directly to the site is March 26th. Feel free to send me or Peter emails with your attempts, especially the dancing (get to it Sexman!).
What I find most intriguing is the rocking tour schedule for the DentMobile. No pics provided. Here's hoping there's not a van split in half with leopard upholstry and black lights on one side in the actual film. Actually...no, that would be dumb. Hah. No specific times and dates are given as of yet but a map is provided and as you can see, this is quite an extensive tour. Why a Gotham D.A. hopeful has to pull a Van Halen, I'll never know. Harvey Dent is probably big in Japan as well.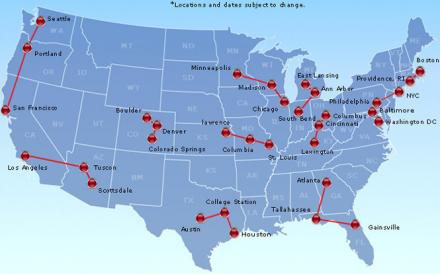 All in all, pretty cool stuff. Well that's pretty much it ladies and gents. Get to making your Harvey Dent human pyramids, it's late Friday night and the moon calls for it, especially if you're at SXSW!