SXSW Blog: The Calm Before Or During The Storm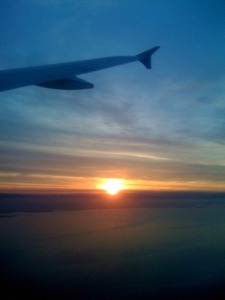 I've landed in Austin Texas, and it is much colder than expected. Isn't Texas supposed to be warm/hot? I think I brought some of the bad weather from San Francisco with me. It's been rainy, overcast, and cold. I don't think anyone in the house we're staying at planned for such. It appears that the good weather will shine through this weekend, so it's not really a concern.
I'm staying in a house just outside of the downtown area. It's a reunion of the 2008 Sundance cast times two. We have Alex Billington from FirstShowing on the third floor, Neil and Brian from Film School Rejects, Kevin Kelly from io9 on the second floor, and myself on the ground floor. Later this weekend, some additional counterparts will arrive for the assist. We grabbed burgers at Hut's, which Kevin assures us is "the best hamburger joint in the city", before headed back to the bunks to catch up on some news and much needed sleep. The festival begins tomorrow, so don't worry, the blog posts should become incrementally more interesting as the week goes on.
A reminder, we'll be twittering throughout the day on the /Film twitter page located at twitter.com/slashfilm. Please add us to your follow list as we plan on continuing the twits well after the festival ends. Eventually we plan on posting on late breaking news as it happens, before we're able to get more comprehensive coverage up on the blog.
Thanks for reading,
Peter Sciretta