Do You Have The Crazy? Two Men Stabbed While Watching The Signal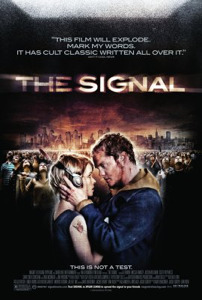 Imagine this. It's Sunday night and you're sitting in a movie theater watching The Signal, an independent horror movie about a mysterious transmission which invades every cell phone, radio and TV, turning people into killers. And then suddenly, two men sitting in separate areas of the theater are randomly attacked and stabbed by an unknown man who was watching the movie. This isn't just a scenario, this actually happened last night at the AMC Theater in Fullerton. Is The Signal real?
The unknown man supposedly started stabbing at the theater seat and then began stabbing the victim. As he fled, he stabbed another victim sitting near the exit. Both men were stabbed in the arm and were taken to separate hospitals. Neither men knew the suspect, who escaped without arrest. The film was paused while police conducted their investigation. When it was resumed, the fist scene was a stabbing. Coincidence?
Discuss: Is The Signal real?
source: msnbc