Zack And Miri Make A Movie Trailer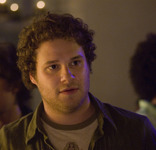 Kevin Smith is hard at work filming and editing his latest, Zack and Miri Make a Porno, which stars Seth Rogen, Elizabeth Banks, Craig Robinson, and Jason Mewes. Our friends at NewsAskew are reporting that the current hope is to have the official movie trailer attached to Pineapple Express, the Judd Apatow-produced Seth Rogen comedy which hits theaters on August 8th 2008.
This means that Zack and Miri would probably hit theaters in October or November. Clerks and Mallrats were released in the month of October, while Smith's highest grossing domestic release, Dogma, hit theaters in November. So I'm thinking that November is probably the smart bet. The timing could also be perfect for a premiere at the Toronto International Film Festival. This is all just speculation.
via: FilmSchoolRejects