WonderCon: 10,000 B.C.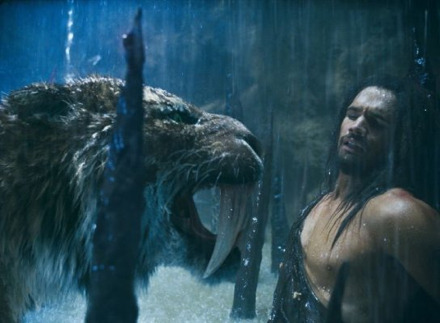 Wonder-Con premiered a new, exclusive trailer during the first panel of the day presented by Warner Brothers, 10,000 B.C., Roland Emmerich's (The Day After Tomorrow, Independence Day, Stargate) latest magnum opus (okay, slight overstatement). Emmerich's films tend be big, loud, and, more often than not, ridiculous, contrived and, for those of willing to admit it to ourselves, guilty pleasures of the highest order (or lowest, depending on your perspective). From the trailer we saw, 10,000 B.C. looks like more of the same.
The trailer seemed to have a lot in common with Mel Gibson's Apocalypto, except in reverse. Thanks (or rather no thanks) to an advanced, pyramid-building civilization hunting for slaves, a mammoth hunter, D'Leh (Steven Strait), loses his lover Evolet (Camilla Belle). The rest of the film keeps the characters separated while D'Leh makes his way across treacherous terrain to an ancient city and the already mentioned pyramids.
Like Emmerich's previous big-screen spectacles, 10,000 B.C. relies heavily on state-of-the-art visual effects. Every shot in the trailer was crammed with CGI, most of it solid, but some scenes still looked rough and the CG mammoths and saber-toothed tiger looked good in some shots, worse in others. If the online reports are true, 10,000 B.C. wasn't ready for a fall release, so Warner Brothers decided to push it back five or six months while Emmerich and his team completed the visual effects. That, of course, says nothing about the story, which looks as cheesy as anything Emmerich's done so far.
Emmerich, Strait (the forthcoming Stop Loss, Sky High), and Belle (When a Stranger Calls, The Quiet, The Invisible Circus) were all on hand for the panel discussion, which went from a brief introduction by Emmerich where he mentioned the lengthy, difficult shoot (n New Zealand and Africa to the Q&A session that began, naturally enough, with a question about 10,000 B.C.'s historical accuracy.
The short answer: not much. For Emmerich, the setting and time period allowed him to combine his research into mammoth hunters and their society with a fictionalized prehistoric civilization. Emmerich cited Fingerprints of the Gods (a questioner mentioned Chariot of the Gods) that posits an ancient, unknown civilization as a source for 10,000 B.C.. The voiceover narration in the trailer indicates as much (maybe even the "lost" continent of Atlantis). Emmerich wanted the freedom the combine facts, fiction, even Robert E. Howard "Conan the Barbarian" style fantasy (as another questioner mentioned). Emmerich later mentioned Jean-Jacques Annaud's Quest for Fire as an inspiration for 10,000 B.C..
As for the actors and preparation, both Strait and Belle confirmed the obvious: it was a hard, time-consuming, physical shoot that required intense preparation and training. Strait, however, mentioned that Emmerich shot 10,000 B.C. in sequence (meaning scenes were shot in the order in which they appear in the screenplay and in the film). It's rare for a film to be shot in sequence, but it seems like it'd help actors, since they wouldn't have to worry about where a scene fits into the overall film or where in their character's inner arc the scene appears. Belle did add something interesting; the characters speak in accented English that mixes Standard English with Arabic (since, presumably, 10,000 B.C. takes place in the Middle East.
As for future projects, Emmerich confirmed that he'd be making 2012 as his next film, he refused to say anything else. IMDB still lists the remake of Fantastic Voyage as his next project, but as is often the case, it's probably out-of-date. Given that Emmerich didn't mention Fantastic Voyage, it's been either temporarily shelved or permanently postponed.