Cool Stuff: Darth Vader Hot Air Balloon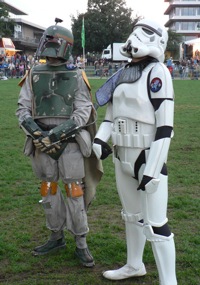 Belgian Star Wars fan Benoît Lambert created this Darth Vader-shaped Hot Air balloon.
"As soon as we got Lucasfilm's approval, we made contact with the world largest manufacturer of hot-air balloons, specialized in special shapes and based in the United Kingdom. A Darth Vader helmet replica was sent to their engineers to help them recreate every detail. A vectorial file representing the Vader helmet in 3D was also sent to the engineers."
"Once the first draft in our hands, several shape and colour modifications were discussed and made in order to be sure that the balloon would look as much as possible as the real Darth Vader helmet. Colours were chosen to optimize 3D effects once the balloon in flight. For aesthetical reasons, grey shades around the face are slightly different from the official shape. Once the last visual draft accepted by our team and by LFL, the making could begin… 8 weeks of making were necessary to obtain the final result."
"Then this final draft received LucasFilm's approval, and the manufacturing could begin. Eight weeks were necessary to give birth to the balloon. To keep this project secret on Lucasfilm request, the english manufacturer called it Â" Head One Â". This name allowed us to keep the project secret until the balloon's first public appearance, and was also used for the official belgian regisration."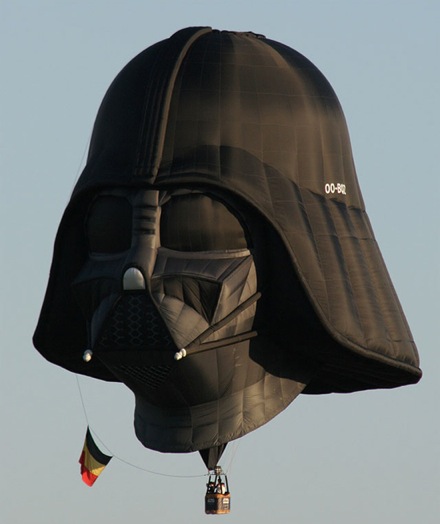 The Hot Air Balloon's technical details:
26 meters ( 86 feet) high, basket included
21 meters ( 69 feet) wide
24 meters ( 78 feet) depth
Estimated hot air volume 3.000 m³ ( 106,000 cubic feet)
Estimated weight 290 kilos ( 640 lb)
Watch a video of the balloon in action after the jump.
For more information on the Darth Vader Hot Air Balloon, go to darthvaderballoon.be .