Must Watch: Middle School Kids Interview Jason Reitman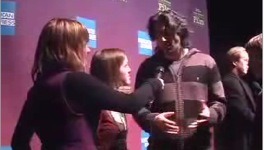 A bunch of middle school kids interview Juno director Jason Reitman at the Santa Barbara International Film Festival. One of the brats asks Reitman where he finds time to call his father (Ivan Reitman) when he needs to know where to put the camera. Another one of the kids follows up with a question asking "Since you really have no chance of winning the Academy Award, was it still fun being nominated?" The look on Reitman's face is hilarious. I need to find these middle school kids and hire them on to do interviews for /Film... oh yeah, and that sexman guy too...
[flv:http://media2.slashfilm.com/slashfilm/trailers/reitmankids.flv 320 240]
I'm not sure who set up this interview (Reitman?), or who scripted the questions (Diablo Cody?), but I think it's great that Jason went along with the whole thing.