Cool Stuff: Lightsaber Desk Lamps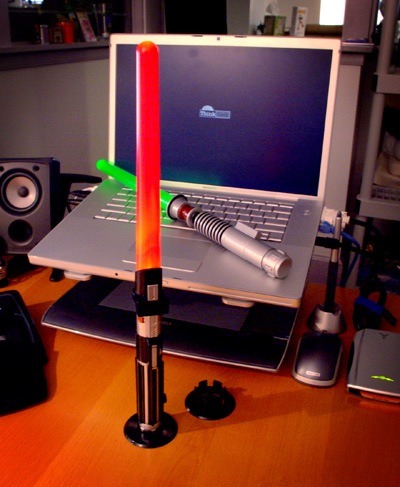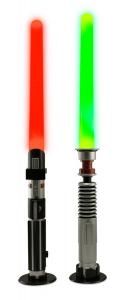 I've always wondered why LucasFilm have never released a display quality lightsaber which you could use as a lamp. All of the Master Replicas Force FX blades use internal batteries so that you can swordplay with your friends. Thats fun but I've always wanted a lightsaber that I could mount to a wall as a source of light.
Lucasfilm has finally released Lightsaber desklamps in Japan. While I love the idea, the result is rather odd-looking, with the blade being only slightly longer than the hilt. Seems more like a Lightdager than a Lightsaber. And again, each desk lamp runs off AAA batteries. Why? Any serious lamp should have an AC adaptor. Am I asking too much for a plugable lifesize Star Wars Lightsaber mountable lamp? Probably.
Anyway, while this might not be cool enough for me to buy, I thought some of our loyal Cool Stuff readers might be interested. The mini glowing Star Wars desk lamps have been imported from Japan and are available through Think Geek for only $19.99. You can choose from the Red Darth Vader saber, or the Green Luke Skywalker saber. Each Lightsaber Stands 16" High, and requires 2 AAA batteries (not included).
Cool Stuff is a daily feature of slashfilm.com. Know of any geekarific creations or cool products which should be featured on Cool Stuff? E-Mail us at orfilms@gmail.com.