Juno Crosses $100 Million Dollar Mark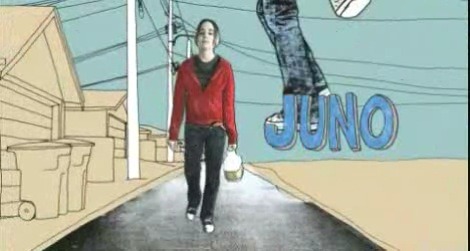 The little film that could has now crossed the $100 million dollar mark, and is now the sixth biggest platform release of all time. Congratulations to Fox Searchlight, Diablo, Jason, Ellen, Olivia, and all the rest of the people who made this film. Check out the full press release after the jump.
FOX SEARCHLIGHT PICTURES "JUNO" CROSSES
$100 MILLION DOLLAR MARK
LOS ANGELES, CA January 31, 2008 â€" Fox Searchlight Pictures President Peter Rice announced today that four time Oscar® nominee including Best Picture and critic's darling JUNO has made box-office history by becoming the first film released by Fox Searchlight to cross the coveted $100 million mark in theatrical box-office grosses eclipsing the previous record of $71.5 million set by SIDEWAYS in 2004.
"This is an astonishing feat for us and the film has surpassed all our expectations.  When you have a quality film of this caliber made by amazingly talented filmmakers and actors who truly believe and support a project, you can only succeed," said Rice.  "We knew this film had cross over potential and it has resonated with audiences all across the country.  The entire marketing, distribution and publicity team has poured its heart and soul into making this a phenomenal success and their efforts have been truly remarkable."
JUNO milestones set by the film since its release December 14th are as follows:
·       JUNO is the 6th highest grossing platform release of all time
·       JUNO is the highest grossing platform release since BIG FAT GREEK WEDDING in 2002
·       JUNO has crossed the $100 million mark in just 8 weeks of release, 2nd only to THE BLAIR WITCH PROJECT for a limited release film.
·       JUNO is Searchlight's widest platform release in its history and its 3rd widest release of any film (wide or limited) in company history at 2,534 locations (Wk #7) behind BANGER SISTERS (2,738 locations) and THE HILLS HAVE EYES (2,621 locations).
·       JUNO has been on the Top 10 grosses list for six consecutive weekends and all weekends of 2008.
·       JUNO is on over 175 Top Ten lists.
·       JUNO has received numerous guild nominations including WGA, SAG, PGA, ACE and CDG.
Fox Searchlight Pictures is a specialty film company that both finances and acquires motion pictures.  It has its own marketing and distribution operations, and its films are distributed internationally by Twentieth Century Fox.  Fox Searchlight Pictures is a unit of Fox Filmed Entertainment, a unit of Fox Entertainment Group.