Film News, Deals, Rumors, And Other Things We Missed Or Sneezed At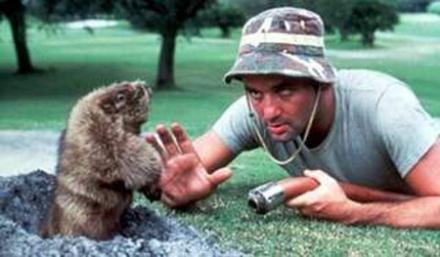 The G.I. Joe casting news marches on, blankly. The main villain in the film, the silver-headed Destro, will be played by theater actor David Murray [iesb.net], previously seen in Batman Begins as..."Jumpy Thug." A face you will recognize, actor Dennis Quaid's, is now set for General Hawk, the unkempt elder leader of the Joes. There's your marquee value. The Cobra-backed villain, Zartan, who is a dead ringer for the old school wrestler the Ultimate Warrior, will be played by South African actor Arnold Vosloo [iesb.net]. How much more of this do we have to take? In what seems like a move directed at all of the Internet moaning, G.I. Joe creator Larry Hama [latinoreview] has signed on as a consultant to the film. Late, much?
Three years have passed since her last forgotten supernatural mystery, The Forgotten, so the lovely and veddy talented Julianne Moore is set to top-line a new $25 million supernatural mystery entitled Shelter. Plot details are under wraps, but Swedish directors Mans Barlind and Bjorn Stein are aboard. Peter and John are not.
The Weinstein Co. liked how Dario Argento's latest film and his first in the English language, Giallo, was coming together, so the company is distributing the film theatrically in the United States. Wild-eyed stars Vincent Gallo and Ray Liotta will face off bathed in the director's stylish color palette. More details on the film here.
Freshly detached in the press from the next Jack Ryan vehicle, director Phillip Noyce (Sliver, Patriot Games), is now officially unattached to helm the untitled Amelia Earhart biopic starring Hilary Swank. Noyce was torn between waiting out delays in filming and directing Mary Queen of Scots with Scarlett Johansson in the titular role. Scarlett > Swank.
AICN apparently has an ear to the howls coming from the set of The Wolf Man, which director Mark Romanek just left. Among the directors now rumored to take over the film, which begins filming in February (rush!), is Brett Ratner [lightning crashes, birds fly backwards]. Earlier we reported that Cloverfield's Matt Reeves has also been mentioned.
More quiet vacuum cleaning of the past days' news after the jump...
Wolf Creek director, Greg Mclean, has a giant croc movie, Rogue, that has been in the can for a while. The Weinstein Co. has said that it will now release it theatrically this spring, but no official date has hit the water. The studio's much anticipated The Road, based on the Cormac McCarthy bestseller, with Viggo Mortensen fending off cannibalistic survivors of the apocalypse will now be released in late 2008 rather than 2009. Sweet.
I'm still impressed with Kevin Nealon's jerk allure on Weeds, but now he's converting that newfound positive attention into a role in They Came From Upstairs, a family movie about teens fending off aliens from a Maine vacation home. Sounds like Small Soldiers with Tim Meadows (who's also set to star) thrown on top.
Forever known as one of the least "best" Best Pictures ever, 2004's Crash is being turned into a television series for Starz. Ugh.
When I saw Juno, I wondered how it would have turned out if Julia Roberts played Jennifer Garner's role. She should give a shout to Diablo Cody and lay off the Charlie Wilson's War-type roles. Going back to her billion-dollar smile, the actress will star in Hothouse Flowers for Sony Pictures as a recently divorced gal who takes off on an unintentionally zany adventure. Script will be written post-strike, film is based on an upcoming novel of the same name.