Official Title For Bond 22 Revealed, Other Details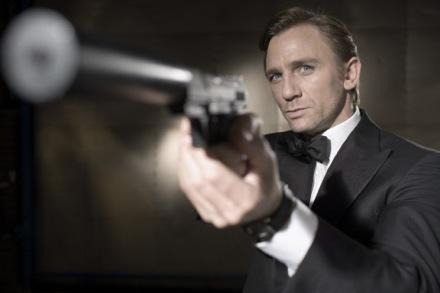 Prior rumors that the next and 22nd installment in the James Bond franchise would be entitled 007 were way off, as today it's been announced by the film's producers that the official title is Quantum of Solace. The title is taken from a short story of the same name by Bond creator Ian Fleming. Said story is contained in the Fleming collection For Your Eyes Only, though the film's plot has no direct connection to it, sans Bond of course. At the conference, Daniel Craig gave his impression of the title, saying it communicated Bond's shattered emotions from Casino Royale...
"Ian Fleming had written about relationships," Craig tells the BBC. "When they go wrong, when there's nothing left, when the spark has gone, when the fire's gone out, there's no quantum of solace."
If it had a beat, you could dance to that quote. More Craig...
"And at the end of the last movie, Bond has the love of his life [Eva Green's Vesper Lynd] taken away from him and he never got that quantum of solace. So he's looking for revenge, you know, to make himself happy with the world again. But it, the title, also alludes to something else in the film," he added."
Other details revealed: The exotic Olga Kurylenko, who plays the new Bond girl Camille, says she's done weapons training but hasn't started filming her scenes. She adds that her character is "is a fighter, this girl is going to kick ass. She's on her own mission, and she's driven by revenge." On the other hand, actress Gemma Arterton says she's filmed several scenes for her role of MI6's Agent Fields, including a sex scene with Craig, calling her character "fresh and young and not a femme fatale." And it seems the elder bird will have boosted screen time as well, with Dame Judi Dench saying her role is bigger this go around, "brilliant," and filled with "prickly" relations with a maturing Bond.
Quantum of Solace will start one hour after the last events of Casino Royale according to co-producer Michael Wilson, with another producer adding that while there are no flashbacks in the film, Vesper Lynde will be "on [Bond's] mind."
Any opinions on the title? I found it to be a little space-age, but it's growing on me and has a cosmopolitan quality that fits an even classier, worldlier Bond. Almost forgot: He'll be traveling to Austria, South America and Italy in the film, soaking in the sights, but seeking revenge, always. Quantum of Solace will hit theaters on November 7th of this year.