Sundance Movie Review: Incendiary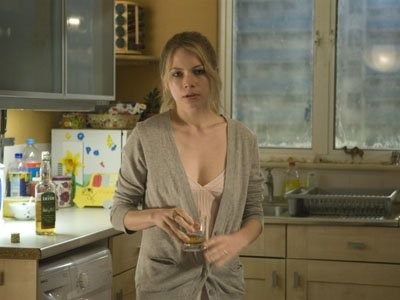 I caught the press screening of Incendiary yesterday, but I'm now reassessing the film through a whole new depressing angle. The film stars Michelle Williams as a mother who loses her husband and 4-year-old son in a suicide bombing at a North London Soccer game. Williams' was not at the game because she was off having an affair with a man played by Ewan McGregor. The young mother's world is torn apart, and the film deals with her insanity during this time of loss.
For those who don't know, Williams was engaged to Heath Ledger, and even fathered his child Matilda. The couple broke up a few months back supposedly because they were spending too much time apart due of their  respective careers. I try not to delve into gossip on /Film, but a connection between the real life tragedy and the one shown in this story is all too similar, and personal. Williams performance is heart-wrenching, Academy Award worthy even, a tour-de-force. It's too bad, because this film will likely now face insurmountable marketing problems. Even if it wasn't for Ledger's death, a depressing film like this is a hard sell for any movie distributor. I can't stress enough how powerful Williams was in this film. Thinking about it, and Ledger, makes my eyes water...
/Film Rating: 7.5 out of 10