Cool Stuff: The 2008 Nerdcore Calendar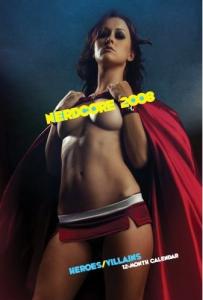 The guys at Nerdcore sent me the 2008 Nerdcore calendar, which is a 12-month topless and fully-nude Not Safe For Work pin-up girl calendar featuring woman dressed as superheroes and villains. What makes this calendar cool is that it includes a little area at the bottom of each month showing you "Nerd Dates".
Nerd Dates compiles regular and nerdy holidays, over one hundred important holy days for geeks, including: Major movie releases like Iron Man, Speed Racer, The Dark Knight, Indiana Jones 4, Harold and Kumar 2, and The Incredible Hulk; conventions like San Diego Comic-Con, Alternative Press Expo, etc.; anniversaries for Night of the Living Dead and more cult classics; birthdays for Stan Lee, Quentin Tarantino, Jean Luc Picard and others; even Sarah Connor's assassination, the morning Oceanic Airlines Flight 815 departed, and the day Marty was sent back to the future (which happened on November 12th, my birthday, at 10:04pm). I wish they also offered a more traditional calendar with the dates included inside their respective day boxes.
The calendar is printed on 12 x 18 glossy archival-style paper stock with a top spiral binding. It's not necessarily something that I would hang on my office wall (as I'm shooting for class over ass) but it's definitely something many of you might find cool enough to purchase.
You can buy the calendar on TotallyNerdcore.com for $25.00 plus shipping. Watch a segment from G4's Attack of the Show highlighting the new calendar, after the jump.
Cool Stuff is a daily feature of slashfilm.com. Know of any geekarific creations or cool products which should be featured on Cool Stuff? E-Mail us at orfilms@gmail.com.