Juno: Soundtrack Tops Charts, Now In Stores, Screenplay Available Online For FREE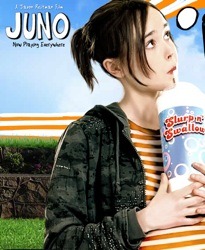 Juno is my favorite movie of 2007. Over the last couple months I've talked to hundreds of people who have seen the movie and have only met a couple people who didn't love it. There are three things that everyone always talks about after seeing this film: The incredible script by Diablo Cody, the amazing performance by Ellen Page, and the hip indie folk rock soundtrack.
The Soundtrack went on sale in stores this week, but has been available digitally on iTunes since December 11th. The Playlist reports that Juno has already reached number one on SoundScan's Digital Album sales charts.
I've mentioned before that Paramount Vantage his made the screenplays There Will Be Blood, Into The Wild, The Kite Runner, and Margot at the Wedding on a For Your Consideration webpage. I just found out that Fox Searchlight is also offering the same deal, which means you can read the screenplays for The Darjeeling Limited, The Namesake, Once, The Savages, Waitress, and best of all Juno, for FREE online. Many say that Diablo Cody is going to win the best original screenplay Oscar, so it's actually a great deal. I highly recommend that you check it out, but first see the movie on the big screen. Ellen Page's comic delivery can't be beat, and, well, the film is just a must see (must I say that enough?).