First Look: Jim Carrey And Zooey Deschanel In Yes Man
Warner Bros has released the first two photos from the upcoming Jim Carrey comedy Yes Man. The story follows Carl Allen (Carrey), "a man who signs up for a self-help program based on one simple principle: say yes to everything... and anything. At first, unleashing the power of "yes" transforms Carl's life in amazing and unexpected ways, but he soon discovers that opening up his life to endless possibilities can have its drawbacks." Directed by Peyton Reed, and co-starring Zooey Deschanel, Bradley Cooper, Rhys Darby, John Michael Higgins, Danny Masterson, and Terence Stamp.
Reed started his career directing behind the scenes EPKs and was heavily involved in the Back to the Future trilogy, spin-off cartoon, and Universal Studios ride. He made his feature debut with the Kirsten Dunst cheerleading comedy Bring It On, which is heavily underrated (as far as teen comedies go). Carrey's last good full-on comedy was probably either Me, Myself & Irene or Liar Liar (or does Man on the Moon count as a comedy?). I tend to enjoy Carrey more in more dramatic films like the previously mentioned Man on the Moon, Eternal Sunshine, and even The Majestic. So who knows if this will be any good. The concept seems somewhat promising.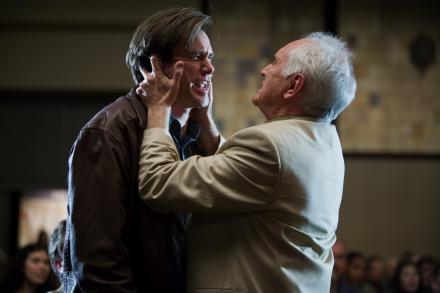 Click on the images to enlarge. Yes Man hits theaters on December 19th 2008.