Nim's Island Movie Trailer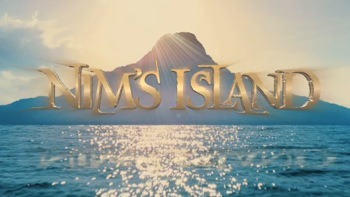 The movie trailer for Nim's Island, the new family adventure comedy from Fox-Walden, is now online. Based on the popular novel by Wendy Orr and Kerry Millard, about a young girl named Nim (Abigail Breslin) who lives on an isolated island with her scientist father. When the father goes missing, Nim requests the help of a reclusive author (Jodie Foster) of the novel she's reading. And Gerard Butler plays Alex Rover, the fictional hero from her novels.
I think I might be out of the age range and demographic on this one. It has a good cast, and doesn't look as bad as most kid-targeted movies. It seems like something that you could sit through and enjoy if you had kids to entertain. I'm just not sure I'd ever be interested in this film on my own. Watch the trailer below, and as always, tell me what you think – Comment Now.
[flv:http://media2.slashfilm.com/slashfilm/trailers/nimsisland.flv 470 200]
You can also watch the new trailer in High Definition on Yahoo! Movies. Nim's Island hits theaters on April 4th 2008.