Jon Favreau To Re-Team With Vince Vaughn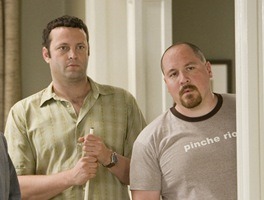 Good News: Jon Favreau has signed on to re-team with Vince Vaughn on the big screen.
Bad News: The movie is New Line's romantic comedy disaster Four Christmases.
The film was recently (or maybe even currently) shooting in my home city – San Francisco, and the local newspapers have been reporting that co-star Reese Witherspoon is on the outs with her co-star Vaughn. Apparently Witherspoon likes to do rehearsals, while Vaughn likes to improvise and go off the cuff. This kind of clash probably won't translate well to the big screen.
It's also rather curious that Jon Favreau is being announced this late in the game – two weeks after principal photography has begun. Not to say that this doesn't happen, but it just seems strange. Maybe Favreau is replacing someone else who was committed, or possibly they had not cast anyone in the role, and Vince called Jon as a last minute favor. Just speculation. Sure, the film is being directed by King of Kong director Seth Gordon, so there is a slight chance the film might be good.
Vaughn will play one of Favreau's brothers, along with country star Tim McGraw (meh!). The film follows a couple's struggle to visit all four of their divorced parents on Christmas Day. Four Christmases will hit theaters in December 2008.