Dr. Seuss' Horton Hears A Who Movie Trailer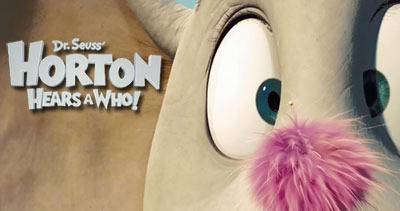 The trailer for the computer animated adaptation of Dr. Seuss' Horton Hears a Who premiered on selected prints of The Golden Compass and is now online. I love the look of this thing. Fox has perfectly captured the Seussian style without going off the deep end. And this is coming from a guy who hated the Ice Age movies (Pixar they are not). I wonder how this will compare to the 1970 2-D animated Chuck Jones television short film. Lets hear what you guys think. Watch the new trailer after the jump.
[flv:http://media2.slashfilm.com/slashfilm/trailers/hortonhearsawho2.flv 470 250]
Directors: Jimmy Hayward, Steve MartinoWriters: Cinco Paul & Ken Durio, Jon Vitti and Mike Reiss, based on the novel by Dr. SeussCast: (voices of) Jim Carrey, Steve Carell, Jonah Hill, Seth Rogen, Isla Fisher, Dane Cook, Will Arnett, Jaime Pressl, Dan Fogler and Amy Poehler.Official Plot Synopsis: The classic and beloved story from Dr. Seuss comes to the big screen in a new CG animated feature motion picture from 20th Century Fox Animation, the makers of the "Ice Age" films. An imaginative elephant named Horton hears a faint cry for help coming from a tiny speck of dust floating through the air. Horton suspects there may be life on that speck and despite a surrounding community which thinks he has lost his mind, he is determined to save the tiny particle.
You can also watch the new trailer in High Definition on Apple.com. Dr. Seuss' Horton Hears a Who hits theaters on March 14th 2007.