Machine Girl Movie Trailer: "The Cult Film Of Next Year"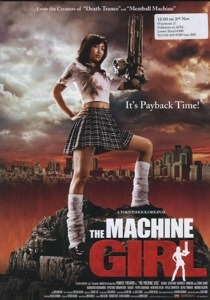 I opened up my email this weekend and was greeted by a message from Todd Brown at Twitch, who wanted me to check out the movie trailer for a Japanese movie called Machine Girl. He assured me that this might be the cult film of next year, and judging by the trailer, he might be right.
The film features yakuza ninjas, flying guillotines, a drill bra, a Japanese teenage schoolgirl, and probably more blood than I've seen on screen this year in all the films combined. Seems like Planet Terror but more fun and bloodier.
Watch the trailer for Noboru Igushi's new movie after the jump.
Machine Girl has a 2008 release date in Japan.