How To Lose Friends & Alienate People Movie Trailer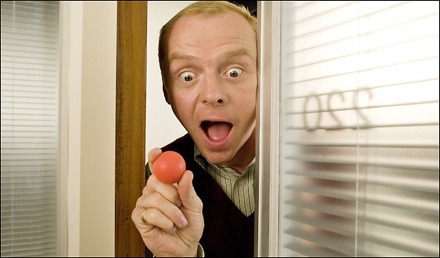 Based on the bestselling memoir by Toby Young, How to Lose Friends & Alienate People follows a disillusioned British intellectual named Sidney Young (Simon Pegg) who both adores and despises the world of celebrity, fame and glamour. Young is offered a job at the diametrically opposed conservative New York City based Sharps magazine, and he soon becomes the talk of the town. Thus begins Sidney's descent into success – his gradual move from derided outsider to confidante of starlet Sophie Maes (Megan Fox) – and a love affair with colleague Alison Olsen (Kirsten Dunst), that will either make him or break him.
At 48 seconds in length, the trailer is more of a teaser than anything else. I think I'll need to see a full theatrical trailer before making any judgements. However, I plan on seeing any movie starring Simon Pegg. Plus his supporting cast is hot... I mean, also good.
The title of the book (and movie) is an obvious parody of Dale Carnegie's bestseller, How to Win Friends and Influence People. Directed by Robert B. Weide (Curb Your Enthusiasm), the movie also stars Jeff Bridges and Gillian Anderson.
Check out the movie trailer below.
[flv:http://media2.slashfilm.com/slashfilm/trailers/howtolose.flv 360 270]
How to Lose Friends & Alienate People hits theaters on October 3rd 2008.
source: TheSun