Speed Racer Movie Trailer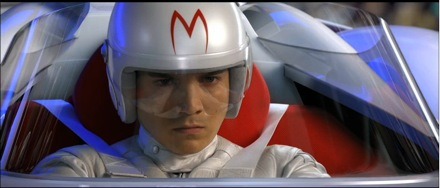 The movie trailer for Speed Racer is now online.
When I posted the first set of production photos this morning, I asked for your opinions. I was unable to make a judgement just looking at the still photos, but now that there is full motion video, here are my first thoughts: The Wachowski Brother's wanted to make a "live-action cartoon", but I think they instead made a "live-action videogame". The results are jarring and are sure to polarize audiences. I think some movie fans will be super-hyped, while others will call this "lame and stupid". I don't see why the Wachowski's are so set on making this a G-Rated movie, as the action seems to extreme for such a general audiences rating.
Please again, tell me what you guys think. I want first impressions!
[flv:http://media2.slashfilm.com/slashfilm/trailers/speedracerreal.flv 470 264]
You can also watch the new trailer in High Definition on Moviefone. Speed Racer hits theaters on May 9th 2008.