Cool Stuff: Alien VS Predator Exclusive Ultimate Showdown Collector's Set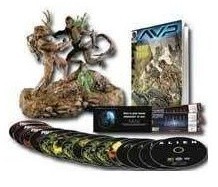 Alex tipped me off to a new Alien VS Predator Exclusive Ultimate Showdown Collector's Set, which is being offered exclusively in the states by Best Buy. The new set is being sold for $169.99 and includes 15 discs:
Every Alien Movie (2 discs each) + bonus disc
Predator 1 and 2 (2 discs each)
AvP Unrated (2 discs)
An Exclusive 22 page mini-Comic Book written and drawn exclusively for this set – AvP: Sand Trap
2 Movie Money Certificates to see Aliens vs. Predator: Requiem – in theaters 12.25.07
And an exclusive Alien and Predator diorama featuring the two rivals locked in combat. Features Alien Blood That Lights Up!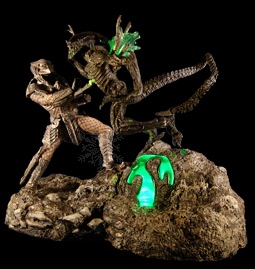 I'm not sure if the set is really worth the $169.99 price tag. I remember buying the Quadrilogy set back in the day for about $80 bucks, and that was almost five years ago, when the prices of DVD's were a little higher. But if you are planning on seeing the new AVP movie, this set does cover the price of two tickets. So that must be worth something. And the two-figure diorama looks very cool, especially lit up. If only I had more room on my DVD shelves...
But if you want one, get it now. This release is extremely limited. Only 10,000 units are shipping worldwide. It appears they are still available on BestBuy.com.
Know of any geekarific creations or cool products which should be featured on Cool Stuff? E-Mail us at orfilms@gmail.com.