Cool Stuff: The Biggest DVD Box Set Of All Time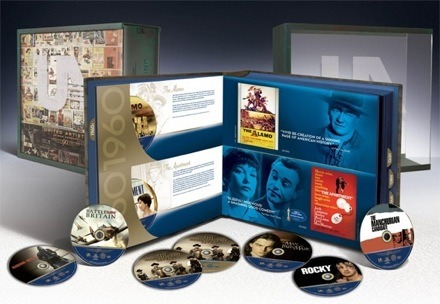 We may receive a commission on purchases made from links.
What is the largest and most expensive DVD Box Set ever released?
Not including some box sets which are being sold as a collection of other box sets, the biggest and most elaborate DVD release has to be the upcoming United Artists 90th Anniversary Prestige Collection.
This unprecedented collection features 90 of United Artists most acclaimed films on 110 discs, including eight Academy Award winning Best Pictures. Presented in a high end collectable showpiece, the DVDs are collected in an extensive linen wrapped book which also features never before seen photos and information. The films are arranged by decade, and includes titles ranging from The Woman in the Window, 12 Angry Men, Carrie, Rocky, Rain Man, Bowling For Columbine and Hotel Rwanda (you can find a full listing of discs after the jump).
This HUGE collection will be released on December 11, 2007 for the retail price of $869.98. Amazon.com has the item on preorder for $608.99 (30% off).
And if that is too much money for you (which is very likely), United Artists are also releasing a 30-disc Deluxe Giftset for $289.98 (or $202.99 on Amazon), but it's just not nearly as cool.
Check out some more photos of the set after the jump.
Know of any geekarific creations or cool products which should be featured on Cool Stuff? E-mail Us.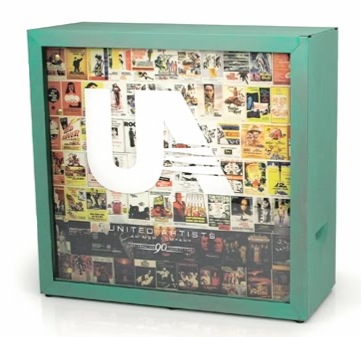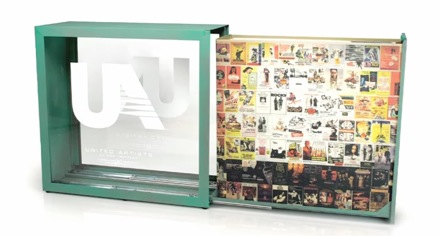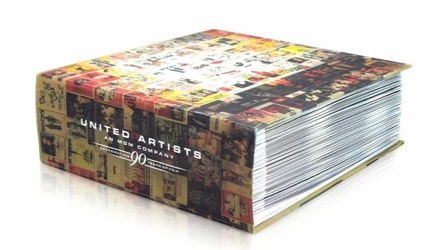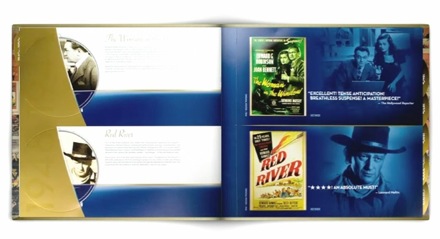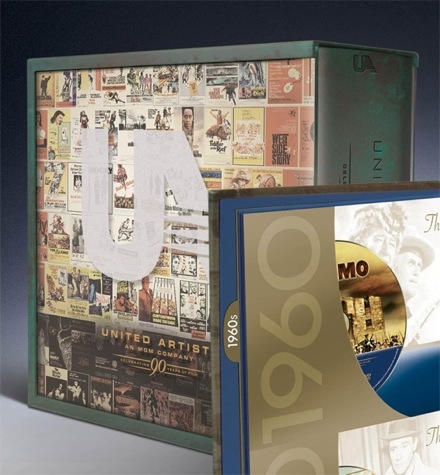 The Collection Includes:
Disc 1: The Woman In The Window P&S
Disc 2: Red River P&S
Disc 3: The Barefoot Contessa P&S
Disc 4: Marty P&S
Disc 5: The Night of the Hunter WS
Disc 6: Dance with Me Henry P&S
Disc 7: The Killing P&S
Disc 8: Moby Dick P&S
Disc 9: Twelve Angry Men WS
Disc 10: Paths of Glory P&S
Disc 11: Witness For The Prosecution WS
Disc 12: The Big Country WS
Disc 13: The Defiant Ones WS
Disc 14: I Want To Live! WS
Disc 15: A Hole In The Head WS
Disc 16: The Fugitive Kind WS
Disc 17: Some Like It Hot WS Disc 1
Disc 18: Some Like It Hot WS Disc 2
Disc 19: The Alamo WS
Disc 20: The Apartment WS
Disc 21: Elmer Gantry WS
Disc 22: Inherit The Wind WS
Disc 23: The Magnificent Seven WS Disc 1
Disc 24: The Magnificent Seven WS Disc 2
Disc 25: Judgment at Nuremberg WS
Disc 26: The Misfits WS
Disc 27: One, Two, Three WS
Disc 28: Pocketful of Miracles WS
Disc 29: Westside Story Disc 1 WS
Disc 30: Westside Story Disc 2
Disc 31: Birdman of Alcatraz WS
Disc 32: Dr. No WS Disc 1
Disc 33: Dr. No WS Disc 2
Disc 34: Manchurian Candidate WS
Disc 35: The Miracle Worker WS
Disc 36: The Great Escape WS Disc 1
Disc 37: The Great Escape WS Disc 2
Disc 38: I Could Go On Singing WS
Disc 39: Irma La Douce WS
Disc 40: It's a Mad, Mad, Mad World WS
Disc 41: Fistful of Dollars WS Disc 1
Disc 42: Fistful of Dollars WS Disc 2
Disc 43: The Pink Panther WS
Disc 44: Topkapi WS
Disc 45: The Greatest Story Ever Told WS Disc 1
Disc 46: The Greatest Story Ever Told WS Disc 2
Disc 47: The Fortune Cookie WS
Disc 48: Persona P&S
Disc 49: The Good, The Bad and the Ugly Disc 1 WS
Disc 50: The Good, The Bad and The Ugly Disc 2
Disc 51: In The Heat of the Night WS
Disc 52: Chitty Chitty Bang Bang WS Disc 1
Disc 53: Chitty Chitty Bang Bang WS Disc 2
Disc 54: Hang 'Em High WS
Disc 55: Thomas Crown Affair (1968) WS
Disc 56: Yours, Mine and Ours P&S
Disc 57: Fellini Satyricon WS
Disc 58: The Battle of Britain WS Disc 1
Disc 59: The Battle of Britain WS Disc 2
Disc 60: Midnight Cowboy WS Disc 1
Disc 61: Midnight Cowboy WS Disc 2
Disc 62: On Her Majesty's Secret Service WS Disc 1
Disc 63: On Her Majesty's Secret Service WS Disc 2
Disc 64: Fiddler on the Roof WS Disc 1
Disc 65: Fiddler on the Roof WS Disc 2
Disc 66: Everything You Always Wanted To Know About Sex P&S
Disc 67: Last Tango In Paris WS
Disc 68: Lenny WS
Disc 69: The Wilby Conspiracy WS
Disc 70: Carrie WS
Disc 71: The Missouri Breaks WS
Disc 72: The Pink Panther Strikes Again WS
Disc 73: Rocky WS Disc 1
Disc 74: Rocky WS Disc 2
Disc 75: Annie Hall P&S
Disc 76: A Bridge Too Far WS Disc 1
Disc 77: A Bridge Too Far WS Disc 2
Disc 78: Equus WS
Disc 79: New York, New York WS
Disc 80: The Spy Who Loved Me WS Disc 1
Disc 81: The Spy Who Loved Me WS Disc 2
Disc 82: Coming Home WS
Disc 83: La Cage Aux Folles WS
Disc 84: The Last Waltz P&S
Disc 85: Manhattan WS
Disc 86: Raging Bull WS Disc 1
Disc 87: Raging Bull WS Disc 2
Disc 88: The French Lieutenant's Woman WS
Disc 89: Heaven's Gate WS
Disc 90: The Secret of the NIMH WS
Disc 91: War games WS
Disc 92: Red Dawn WS Disc 1
Disc 93: Red Dawn WS Disc 2
Disc 94: The Living Daylights – Disc 1
Disc 95: The Living Daylights – Disc 2
Disc 96: Baby Boom WS
Disc 97: Child's Play
Disc 98: Rain Man WS
Disc 99: Road House WS
Disc 100: Goldeneye WS Disc 1
Disc 101: Goldeneye WS Disc 2
Disc 102: Leaving Las Vegas WS
Disc 103: Richard III WS
Disc 104: The Birdcage WS
Disc 105: The Man In The Iron Mask WS
Disc 106: No Man's Land WS
Disc 107: Bowling for Columbine WS
Disc 108: Dark Blue WS
Disc 109: Pieces of April WS
Disc 110: Hotel Rwanda WS