Photos: Watchmen's New York City Backlot Set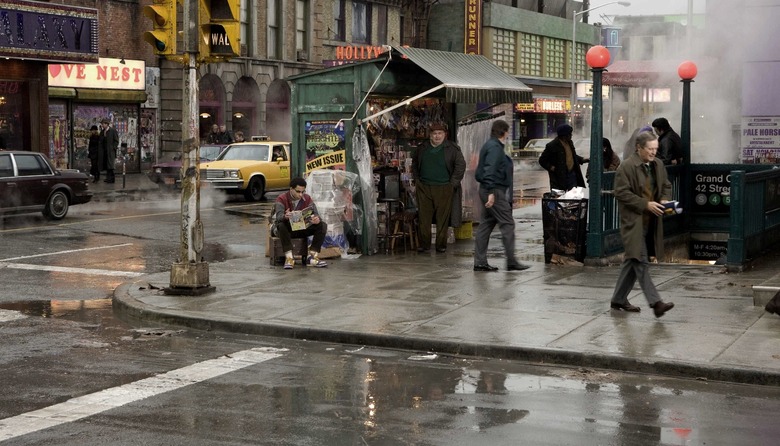 Look closely at the photo above.
It's a vintage photo of New York City, right?
Nope! It's a photo from the Vancouver, BC-based New York City backlot set of Zack Snyder's Watchmen. Snyder was kind enough to drop by the Watchmen website with some photos and fun facts about this amazing set. I'm extremely impressed with the production design of this backlot. If Snyder put even 20% the amount of effort that the set decorators and designers put into the discoloration on some of the signage, than we'll all be in for a treat.
• 5,800 feet of neon requiring 24,000 watts of power
• 100 unique and custom-designed graphics created for the various storefronts
• 5,000 square feet of custom posters
• Street had to work for 1938, 1945, 1953, 1957, 1964, 1974, 1975, 1977, and 1985
• 1,040 feet of 1:1 scale New York streets
• 98,400 square feet of exterior scenery
• 12,500 square feet of interior scenery
• Building heights range from 23'9" to 42'6"
• 10,325 16-foot 2x4s
• 3,600 sheets of OSB (plywood-like construction material)
• 384,000 square feet of foam brick
• 200,000 nails
• 3,500 tubes of construction adhesive
• 160,000 lbs. of steel I-beams support the facades
• 300 cubic meters of concrete
• 6,000 square feet of glass
• 4,800 square feet of plexiglass
• 20,000 donuts were consumed by the construction crew
• 20,000 gallons of water and 3,000 gallons of Gatorade was drunk by the crew
And is that Rorschach walking past the Nixon poster? Click on the image to enlarge.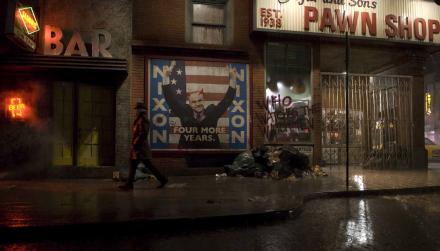 Check out more photos after the jump.