Disney's Bolt Gets 3D Release, New Teaser Poster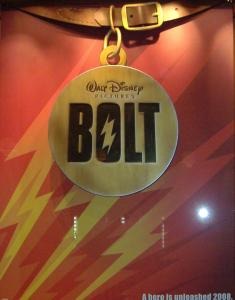 Disney has announced that they will be releasing Bolt (the film previously titled "American Dog") in digital 3-D when it hits theaters next year. Until now, the computer animated film was scheduled for a 2-D release. Disney is hoping to release the film domestically on 1,200 to 1,500 screens in 3D. Beowulf, released in 1000 3D screens worldwide, was the biggest 3D release to date.
Disney is making a hardcore commitment to the digital 3D format. This will be their fourth major film released in the format. Past 3D releases have included Chicken Little, Meet the Robinsons and the now seasonal, Tim Burton's The Nightmare Before Christmas. Disney's Hannah Montana/Miley Cyrus: Best of Both Worlds Concert Tour will hit 700 3-D screens in February. Tim Burton also recently signed a two-picture deal with the mouse house to make a 3D Alice in Wonderland and 3D stop-motion animated feature length remake of his Frankenweenie short film. DreamWorks/Paramount have also committed multiple film projects to be released in the format.
Bolt was originally written and directed by Lilo & Stitch creator Chris Sanders, who left the project, and was replaced by Chris Williams. Bolt is a German Shepherd who has lived his whole life on the set of his action Television show, and now believes he has superpowers. He becomes separated from the studio and goes on a journey of a lifetime.. The film features the voice talent of John Travolta, Thomas Haden Church, Woody Harrelson, Bernie Mac, Mario Cantone, Bruce Greenwood, and Hugh Grant.
The teaser poster to the upper right is on display at Disney. (hence, the light flare in the photo). A teaser trailer is rumored to be attached to National Treasure: Book of Secrets next month.
Bolt hits theaters on November 26th 2008.