The Weinstein Co Announces They Now Control The Weather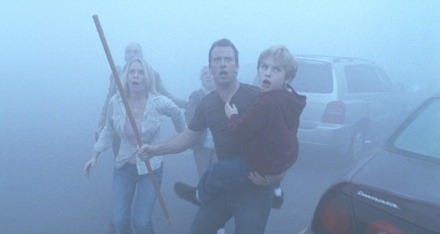 I got the weirdest press release in my email today. It was from the publicity company that handles The Weinstein Co's releases stating that "Los Angeles was covered in a dense foggy mist last night," joking that it might be a "publicity stunt" for Stephen King's The Mist which hits theaters on Thanksgiving. So apparently now The Weinstein Co has found a way to control the weather. They are one step closer to world domination. But if only they could have figured out a way to get people to the theaters to see Grindhouse... Check out the full press release below.
LOS ANGELES, CA
Tuesday, November 20, 2007
8:30AM
In preparation for the opening of the highly anticipated Thanksgiving release, THE MIST, Los Angeles was covered in a dense foggy mist last night, reducing visibility to only a few feet in some areas (**see full AP coverage below).  Dense fog advisories are still in place in the Los Angeles area and drivers are, of course, advised to use extreme caution on the roads.  A publicity stunt?  Or a eerily timed Stephen King-style wake up call to moviegoers?
You be the judge!  But more importantly, have a safe and Happy Thanksgiving!
From the Academy Award®-nominated screenwriter and director of "The Shawshank Redemption‰ and "The Green Mile‰, and Stephen King comes "The Mist"  David Drayton (Thomas   Jane) and his young son Billy (Nathan Gamble) are among a large group of terrified townspeople trapped in a local grocery store by a strange, otherworldly mist. David is the first to realize that there are things lurking in the mist, deadly, horrifying things creatures not of this world. Survival depends on everybody in the store pulling together, but is that possible, given human nature? As reason crumbles in the face of fear and panic, David begins to wonder what terrifies him more: the monsters in the mist˜or the ones inside the store, the human kind, the people that until now had been his friends and neighbors? In this legendary tale of terror from master storyteller Stephen King, the thin veneer of civilization is stripped away, the masks are discarded, and the true horror is revealed as us.  The Mist is an MGM release of a Dimension Films presentation of a Darkwoods production
# # #
**Heavy fog triggers flight delays at Southern California airport
LOS ANGELES (AP) ˜ Thick coastal fog shut down one of two runways for arriving airplanes at Los Angeles International Airport Monday night, causing delays for passengers at the start of the busy Thanksgiving week.
Air traffic controllers were only letting pilots land on the south runway as a soupy marine layer rolled into LAX, Federal Aviation Administration spokesman Ian Gregor said.
Meanwhile, departing flights were delayed by about 15 minutes because of poor visibility, he said.
"The controllers can't see a lot of the air field, so they have to slow down traffic as a precaution," Gregor said.
The National Weather Service issued a dense fog advisory for coastal areas from Santa Barbara to Long Beach, warning that visibility was reduced to about a quarter of a mile.
The fog was expected to lift by 9 a.m. Tuesday, the NWS said.
Earlier Monday, fog was to blame for delays for airline passengers at Bob Hope Airport in Burbank.
The fog prevented 12 planes from landing Sunday night for a Monday morning turnaround, leaving scores of passengers stranded, airport spokesman Victor Gill said.
"It was quite severe," Gill said. "The runway is 400 feet from my office window, and I couldn't see it."
The suburban airport is in the eastern San Fernando Valley, about 15 miles northwest of downtown Los Angeles.
Gregor said that in addition to the problems at Burbank, several flights were diverted from Santa Monica Airport and some flights were delayed at LAX and San Diego International Airport. Things got back to normal later in the morning.
Motorists encountered areas of thick fog late Sunday and early Monday.
Authorities in San Diego County said heavy fog may have contributed to the death of a 21-year-old man in a car crash in Oceanside early Monday. The California Highway Patrol said the man crashed on state Route 78 after making an unsafe maneuver for an unknown reason.