Star Trek Casting: Rachel Nichols, Jennifer Morrison And Winona Ryder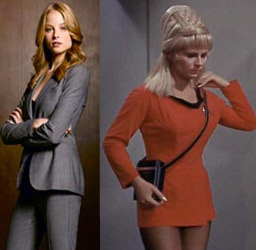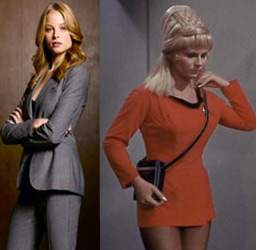 Today has been a hot day for Star Trek news with the casting of Captain Christopher Pike, Janice Rand, Spock's Mother, and some behind the scenes photos which have sparked even more rumors.
Earlier today we reported that 51 year-old Canadian actor Bruce Greenwood had been cast as Captain Christopher Pike in the JJ Abrams prequel/reboot. Devin at CHUD nailed it with the headline "Star Trek XI Miscasting Just About Complete". But let's get to the other new bits of information.
First up let's start with a report that came from Wednesday's Toronto Sun confirmed that Rachel Nichols has been cast.
"I'm very restricted on what I'm allowed to say," Nichols told the Sun. "But yes, there's a good chance you'll see my shining face in the new Star Trek ... My mom even e-mailed me about it because she saw it (online) and I hadn't told her yet. There's a lot of buzz about it, but honestly, I don't even know the name of my character."
But will the former Alias star be playing USS Enterprise yeoman Janice Rand (AICN thinks so) or someone else entirely? See the photo to the right for a comparison.
IESB received photos from the set (mostly extras outside of a warehouse studio covered up in parkas, nothing all too interesting), and one of the photos shows an actress who looks a lot like House star Jennifer Morrison. Is this Morrison (see IESB's photo above), and if so, is she the new Janice Rand? We're waiting on a confirmation.
Variety is now reporting that Winona Ryder has been cast as Amanda Grayson, the Vulcan mother of a young Spock (played by Zachary Quinto in the new film). Spock's mother was played by Jane Wyatt in episode 44 of the original series (titled Journey to Babel). According to Star Trek.com, "Grayson was a schoolteacher from Earth who married the Vulcan diplomat Sarek and gave birth to Spock in 2230. She reunited with her son when she accompanied her husband aboard the Enterprise during the Babel Conference in 2267, and was instrumental in helping Sarek and Spock reconcile some of their differences."
Take a look at the previously announced cast of Chris Pine as James T Kirk, Simon Pegg as Scotty, John Cho as Sulu, Anton Yelchin as Pavel Chekov, Karl Urban as Dr. McCoy, Nichelle Nichols as Uhura and Eric Bana as the villainous Nero in our First Look: The Cast of Star Trek feature.