Box Office Tracking: Saw IV Tracking Softer Than Saw III And Headed For A Likely $22M-$25M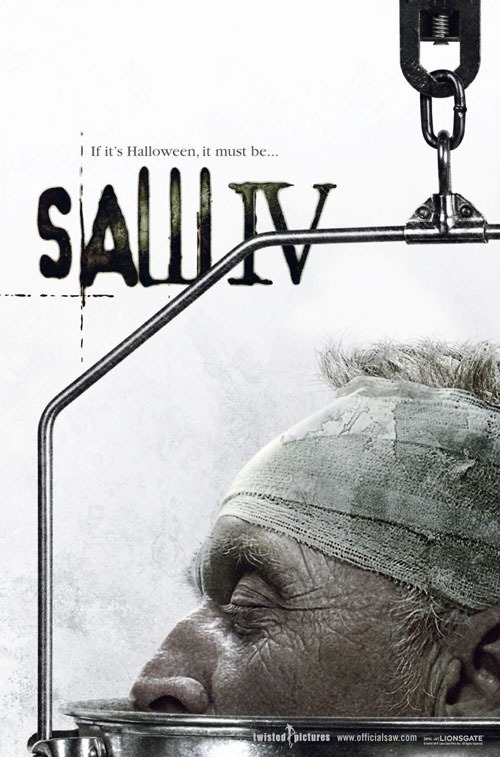 The original Saw, released for Halloween of 2004, was, for me, among the most blazingly original horror films ever made. That was an absolutely ingenious movie with a uniquely twisted premise, and the gore and sadism was balanced by a certain evil freshness. Witten by Leigh Whannell and directed by James Wan, Saw was rewarded with an $18.2M opening weekend and a total domestic gross of $55.1M.
Although Saw II ($31.7M opening – $87M cume) and last year's Saw III ($33.6M opening – $80.2M cume) were both box office successes, they couldn't match the original's cleverness and drifted toward all-out sadism, part of the so-called "torture-porn" that has been, of late, soundly been rejected by audiences.
Now, along comes Saw IV (Lionsgate) opening wide this Friday, and, judging from the latest industry tracking, there is a certain "Jigsaw fatigue".
The newest chapter of the Saw franchise has considerably softer tracking than Saw III in virtually every column of the data. The Un-Aided Awareness for Saw IV is at 13%, which is much lower than Saw III's 22%. That means roughly 41% less buzz and anticipation for Jigsaw year-over-year.
The Total Aware for Saw IV is only 55% compared to 73% for Saw III at this point a year ago. Breaking out the demos in terms of Awareness, last year's chapter was much stronger in all 4 quadrants (Males Under 25 â€" 87%-71%, Males 25 Plus â€" 69%-49%, Females Under 25 â€" 83%-61% and Females 25 Plus â€" 52%-42%).
Definite Interest shows a bit less disparity as Saw III was at 46% compared to 41% for this week's offering, but Saw IV has far weaker interest from Females Under 25 (48% vs. 58%).
As for the all-important First Choice column, there's just less love for Jigsaw this year. The franchise appears to be running out of gas.
FIRST CHOICE
Saw III â€" 20%
(Males Under 25 â€" 32%, Males 25 Plus 12%
Females Under 25 â€" 30%, Females Under 25 â€" 6%)
Saw IV â€" 15%
(Males Under 25 â€" 22%, Males 25 Plus 14%
Females Under 25 â€" 22%, Females Under 25 â€" 3%)
By no means am I calling for a Hindenburg-like bomb here, but Saw IV is unlikely to reach $30M on opening weekend. My analysis of the tracking data points to a $22M-$25M opening which should translate to a domestic gross of $50M-$55M.
The other wide release this week is Buena Vista's Dan in Real Life, a sweet, quirky romantic comedy, which may be slightly above average (depending on who you ask). In the early-going on Rotten Tomatoes, the movie is at 58% Fresh, but my hunch is that the score will improve with both of the trades, Rolling Stone and Entertainment Weekly already positive. With a cast that includes Steve Carell, Juliette Binoche, Dane Cook, John Mahoney and Dianne Wiest, we're getting 2 Oscars, a Golden Globe and 2,132,928 MySpace friends (they belong to Cook).
There's no perfect comparable for Dan in Real Life. It's a romantic comedy, but Carell and Cook may help it skew a bit younger. In this week's industry tracking, its 55% Total Aware is decidedly unimpressive, trailing mediocre July rom-com No Reservations, which had 61% Awareness.
Definite Interest for Dan is at 32%, marginally better than the 24% that No Reservations went off at, but the 2 films have basically the same First Choice score (6% for Dan vs. 5% for No Reservations). The Carrell date movie is the First Choice of 9% of Females Under 25 and 8% of Females 25 Plus, so it's got classic "chick flick" tracking.
No Reservations opened with $11.7M this summer, and, given that Dan in Real Life has more Definite Interest, I think it's got a shot to do a couple of ticks better. In a Fall filled with dour, depressing movies, it stands out as decidedly upbeat. After pictures dealing with the Iraq war (In the Valley of Elah), Middle East terrorism (The Kingdom), legal espionage (Michael Clayton), a missing child (Gone Baby Gone), torture (Rendition), and heroine addiction (Things We Lost in the Fire), I suspect that adult audiences may rally around a smart, well-made romantic comedy. I'm targeting $10M-$13M for Dan in Real Life.
Here are my predictions for this weekend (10/26-28):
1. Saw IV – $24.7M
2. Dan in Real Life – $11.5M
3. 30 Days of Night – $7.1M
4. Tyler Perry's Why Did I Get Married? – $7M
5. The Game Plan – $5.6M
6. Michael Clayton – $4.8M
7. Gone Baby Gone – $4M
8. The Darjeeling Limited – $3.75M
9. We Own the Night – $3M
10. Rendition – $2.8M
Read More at Fantasy Moguls.