Early Box Office Tracking: American Gangster Almost Certain For $40+ Million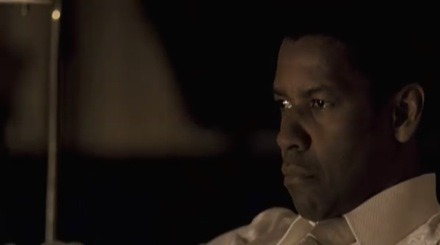 Yesterday, I reported that the tracking for Jerry Seinfeld's Bee Movie (Dreamworks/Paramount) suggests a $38M+ opening weekend when it hits the marketplace on November 2. My analysis of the most recent tracking data indicates that there will be a second major blockbuster opening on that same day. Ridley Scott's long-awaited American Gangster (Universal), starring Oscar winners Denzel Washington and Russell Crowe, has real traction in the marketplace, and it has the look of a "can't miss hit."
If both Bee Movie and American Gangster can top $40M next weekend, a real possibility, it will mark only the 3rd-time in modern box office history that 2 movies have opened that big on the same day. The double $40M opening feat was first accomplished back in 2005 when The Longest Yard grabbed a $47.6M opening and Madagascar delivered a $47.2M weekend. The trick was duplicated last November when Happy Feet scored a 3-day of $41.5M opposite Sony's Casino Royale with $40.8M during the same frame.
American Gangster has a dramatically better tracking performance, 10 days away from release, than last year's Best Picture The Departed (Warner Bros) had at the same point of its advance campaign. I'm told that the gritty, R-rated Oscar contender has 8% Un-Aided Awareness compared to the 3% mark posted by the Scorsese crime drama. Un-Aided Awareness is the best tracking measure for audience buzz. It means that moviegoers surveyed are talking about Gangster with no prompting.
Everybody seems to know about American Gangster with a Total Aware of 82%. That's considerably stronger than this week's openers, Saw IV (Lionsgate) and Dan in Real Life (Buena Vista), both at just 55%. The Departed had only 65% Awareness 10 days prior to release, so the marketing department at Universal is clearly doing its job with great efficiency and effectiveness.
Definite Interest for Gangster is already at 53% with a staggering 61% of Males Under 25 saying that they want to see it. The movie is at 55% with Males 25 Plus and, an especially impressive, 45% of Females Under 25 and 49% of Females 25 Plus say that they're open to seeing it. At the same point in its marketing cycle, The Departed was at a dramatically weaker 43% Overall Definite Interest score with Under 25 Males and Females both in the mid-30's.
In the all-important First Choice column, American Gangster is already at an excellent 17%, which is better than the current 15% number for Saw IV (Lionsgate) opening this week. Especially impressive is the 28% First Choice with Males Under 25. That's the "money demo," meaning that young men tend to show up at the local multiplex.
Denzel Washington's last movie, Déjà Vu from last Thanksgiving, had a day-of-opening Total Aware of 82%, Definite Interest of 42% and First Choice of 15%, so, already, Gangster is in better shape, and much of Universal's marketing "powder" is still dry. Once the television airwaves are filled with an even higher saturation of ads, all of American Gangster's tracking numbers will get that much better.
Only disastrous reviews could derail this movie, and, as of today (10/24), the film has an early 100% Fresh rating at Rotten Tomatoes. Early reviews are positive, although shy of the near-perfect reviews for The Departed, but Peter Travers from Rolling Stone, for example, calls this "the black Scarface" and says, that "American Gangster is already looking like a major awards contender."
Washington's last movie Déjà Vu opened on the Wednesday before Thanksgiving and went onto a 5-day of $28.6M. Meanewhile, The Departed opened on a Friday with an $8.6M take, which translated to a $26.8M opening 3-day. Gangster is going to be in a different box office stratosphere.
I'm targeting $12M-$14M for opening day next Friday and $40M-$45M for what would be a staggering opening weekend. I will continue to follow the tracking information very closely, but as of now, I'd say that Gangster will win the day next Friday, then Bee Movie will make a strong charge with Saturday and Sunday matinee business. My gut, right now though, tells me that Ridley Scott, Denzel Washington and Russell Crowe will "sting" Seinfeld's Bee for a weekend victory.
Read More at Fantasy Moguls.